When discussing artificial living walls for indoor and outdoor use, it's impossible not to mention Calico Greens. Our company has been providing high-quality faux walls for decades. Whether you're a residential customer looking to rejuvenate your home, or a commercial entity looking to inject new life into otherwise drab office spaces, we can help. Our planted wall is easy to install, durable, low-maintenance, and aesthetically pleasing.
Indoor Use
Artificial planted green walls are an excellent way to bring a touch of elegance and serenity to your living room, bedroom, or any other room. They are also great for indoor use because they do not require watering or the use of soil. Unlike natural living walls, our products help keep indoor areas clean and insect-free.
Outdoor Use
Faux living walls are a popular way to add a touch of flair to decks, patios, and other outdoor spaces. This is an excellent way of giving your home or office a captivating curb appeal that turns heads and wows passersby. Fake living walls can also be an innovative and attractive solution to add privacy to any outdoor living space.
Fake Living Walls for Commercial Use
Calico Greens has been the go-to source for high-quality artificial living walls for commercial settings for a long time. The demand for synthetic walls for commercial indoor use has increased dramatically in recent years. This drive is primarily due to the inherent benefits of faux living walls, including aesthetic transformation, low maintenance, and ease of installation. This is why our fake plant walls have become a highly sought installation in the following settings: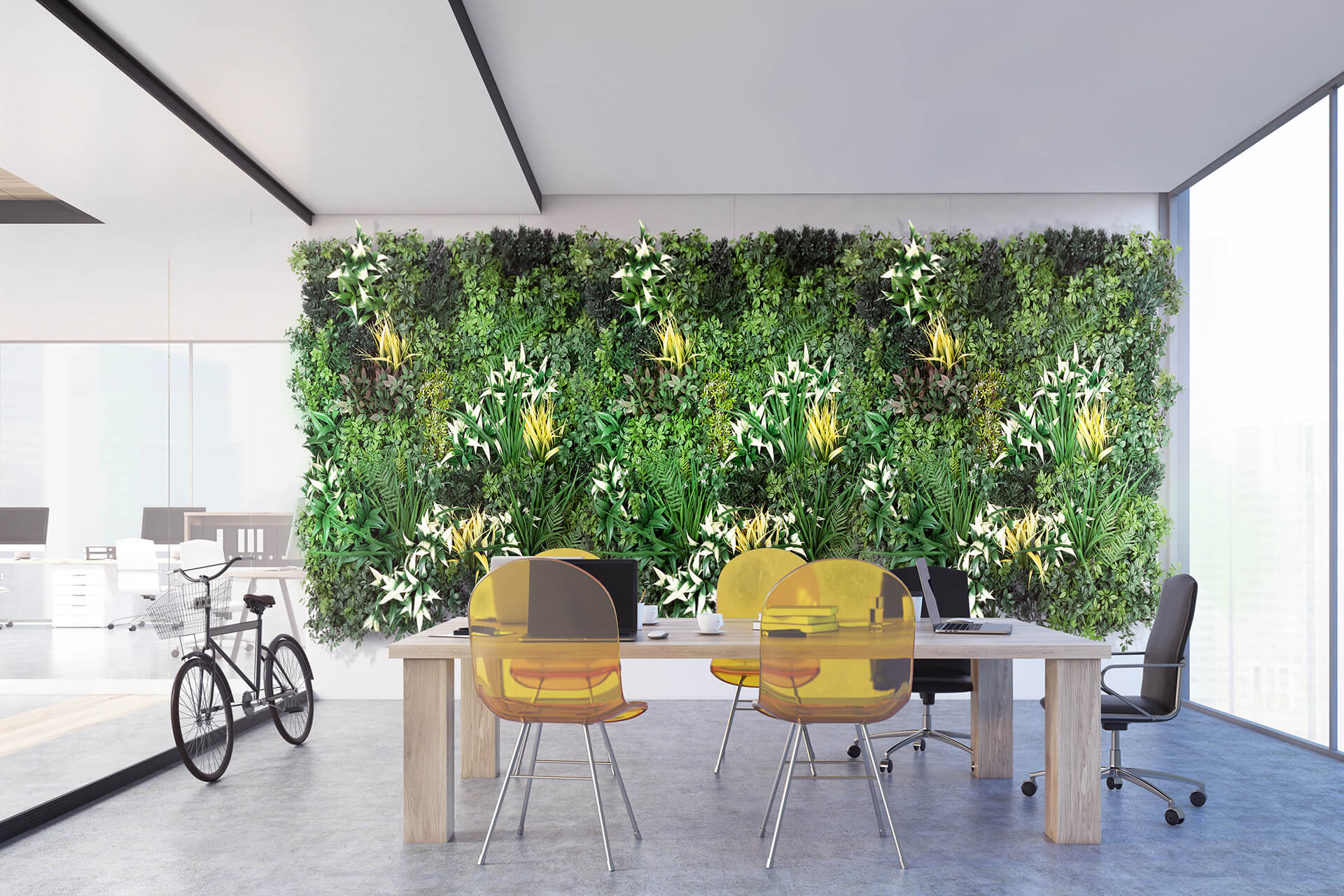 Commercial production floors
Reception areas
Walkways
Recreational areas
Hotel reception areas
Break rooms
Outdoor rooftops, decks, & patios
And More
Faux Living Walls for Residential Use
Artificial living walls are not just for commercial buildings: residential homeowners can also use Calico Greens' premium faux living walls to accentuate their interior design. As a result, it's becoming more common to see faux living walls in residential settings, including living rooms, outdoor patios, deck partitions, bedrooms, and hallways. Like the commercial applications, residential users benefit from the fake walls' luxurious appearance, durability, low maintenance, and ease of installation.
Why Our Faux Living Walls are Growing in Demand
Calico Greens' premium artificial green wall products have seen continued growth in artificial living walls' popularity for both indoor and outdoor use. Here are the reasons why:
Radically Transform Your Space
Calico Greens' premium artificial living walls can accentuate any room, patio, or deck. There is no better way to add a touch of unmatched luxury to any setting than with a fake living wall. Research has shown that introducing greenery into any environment creates a less stressful space that can boost productivity.
Low Maintenance
Although living walls are not a new phenomenon, walls with live plants are often plagued by high maintenance costs. Office buildings, hotels, and other recreational spaces have experimented with plant walls for decades, but the need for regular watering, pruning, and weeding has been a recurrent issue.
Calico Greens' artificial fake plant walls provide the same effect as natural plants without the added maintenance work. This is a tremendous benefit for both residential and commercial customers looking to enhance their indoor and outdoor spaces.
Easy to Install
Traditional living plant walls were always cumbersome to install and maintain. They required a high level of expertise, not to mention recurring visits for maintenance. Calico Greens' faux living walls address this issue head-on by providing a product that is easy to install and maintain.
Unmatched Sound Absorption
If you want to design a living or working environment that is highly serene, our faux living walls will do the trick. Their amazing sound absorption qualities can drown out background noise, making your home, office, or restaurant more peaceful and less distracting.
Contact Us for More Information
Trust Calico Greens for authentic-looking, high-quality faux living walls for both indoor and outdoor settings. Our products are strikingly immaculate, highly durable, low maintenance, and easy to install. Whether revamping your home or office, our fake living walls are ideal for various indoor and outdoor uses.
If you're ready to install a faux living wall, our team is happy to help answer any questions you may have about installing fake green wall decor in your home or office. Contact us today to set up a free consultation!