Artificial Green Wall Decor
In recent years, there has been an increase in the use of artificial green wall decor for residential and commercial landscapes and architecture. This newfound design concept has primarily been fueled by various factors, including aesthetic appeal, tranquil effect, and low maintenance features. For ultra-realistic and customizable green wall panels, customers trust Calico Greens.
Calico Greens is one of the most renowned providers and installers of artificial green wall panels for residential and commercial use. When it comes to color, shading, and dimension, our products are unmatched in their beauty, durability, and versatility.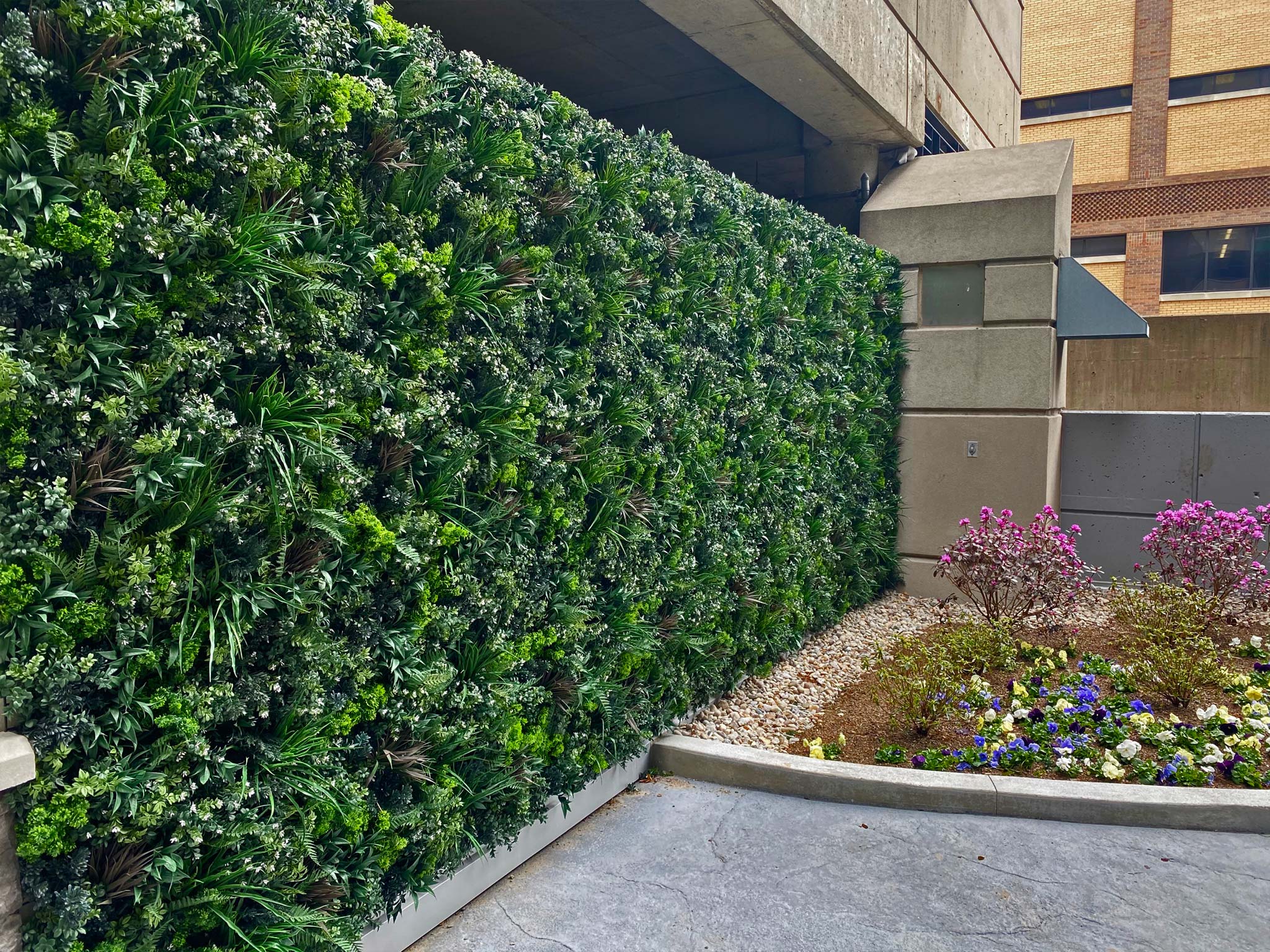 Unmatched Qualities
Are you looking to transform a mundane or unsightly wall? An artificial green wall is a vertical garden made up of interlocking panels typically made of synthetic vegetation. Our green wall panels achieve a perfect blend of sophistication and nature. We are constantly perfecting our technology and quality control processes at Calico Greens to ensure the most lifelike, low-maintenance, and long-lasting artificial green wall panels in the market.
Synthetic green walls are commonly used in office partitions, bathrooms, kitchens, backyards, balconies, retail store fit-outs, workspaces, and reception areas. To achieve the perfect decor, the walls are usually installed in sections with the back of each panel fastened to the wall. The goal is to radically transform the overall visual appearance and serenity of a mundane-looking wall.
Versatile Uses
Calico Greens artificial green wall decor is incredibly versatile. There are several unique uses for our faux living walls. Consider adding one to your:
Home office
Kitchen
Small patio
As a partition wall in a studio apartment
Terrace or deck
Formal living room
Bathroom
Any stale space that needs a lively addition
You can dress up any ordinary space with an artificial living wall from Calio Greens.
Save Time and Money on Maintenance
When it comes to general upkeep, artificial living walls are much less expensive to care for than natural ones. For instance, you never have to worry about the foliage dying due to prolonged exposure to sunlight and UV rays. Our synthetic walls remain perpetually immaculate all year long regardless of season or use.
Even better, you can eliminate chores like watering, seeding, de-weeding, and applying chemicals to enhance the quality of your garden. Watering natural grass walls has also been associated with water leaks and structural damage to homes or offices. And since our synthetic garden walls eliminate much of the repetitive maintenance tasks associated with natural vegetation, they are a huge money and time saver for business owners and homeowners.
Consistent and Very Realistic-Looking
While natural living plant walls have served well in the past, they are not necessarily perfect for indoor vertical spaces. For example, as the leaves and branches fall off, they tend to leave the floors untidy. Then there is the issue of watering them in a vertical environment, which was always a nightmare. Synthetic green wall panels, on the other hand, are ideal for both indoor and outdoor use. Our green walls are immaculate, consistently stunning without fading, and are resistant to UV radiation, bugs, and fungi.
Amazing Sound Absorption
While most homes appear to be peaceful and quiet in general, this is not always the case. Depending on the structure, there may be severe noise pollution in the surrounding area. Excessive noise is not only distracting, but it can also be inconvenient if you can't carry on a normal conversation without raising your voice.
Artificial green wall panels have excellent acoustic properties. When it comes to establishing peaceful and serene environments, traditional walls have always fallen short. In spaces where privacy is essential, walls must have the appropriate separators to keep unwelcome conversations and sound at bay. Calico Greens' artificial green walls are the solution.
Increase Serenity and Decrease Stress
It's a fact that simply being in the presence of synthetic green walls gives humans a sense of well-being. According to studies, artificial green walls can contribute to a sense of biophilia. Biophilia is an innate human need to interact with nature. It is a normal human predisposition to appreciate natural elements, which relaxes and calms our temperaments. This explains why artificial green wall decors are becoming increasingly common in hospitals and high-stress commercial settings.
Contact Us for More Information
For more information on our ultra-realistic artificial green walls,
contact us today
. Our outstanding team is on standby to help you with all your questions regarding your own artificial green wall decor additions.