Artificial Green Walls for Offices
Calico Greens
is a well-known provider of artificial green walls for offices. Our photorealistic green wall panels help create a memorable, comfortable, yet eye-catching environment at the office for both employees and customers.
Our walls are not only intended to improve the aesthetic of your working environments, but they are also suitable for residential use. If you desire a more tranquil and stress-free office environment, our products are ideal. They allow your staff to focus better and be more productive. Furthermore, our one-of-a-kind artificial wall panels can transform an otherwise drab and dull workplace area into a beautifully rich one.
Why Our Artificial Green Walls
Alternative to Traditional Wall Decor
In addition to being a refreshing alternative to traditional wall art and decor, our artificial green wall products are extremely popular with businesses. Artificial living walls provide a fabulous way of enhancing the aesthetics and ambiance of your office's interior office design. Aside from their aesthetic appeal and elegance, our green walls contribute to creating a more tranquil and serene environment.
Use them to Separate Spaces
Calico Greens also excels at artificial green walls for commercial purposes. Nowadays, most offices use partitions to separate different work areas. For instance, a partition can be erected to keep the production floor away from the break room. Similarly, the copy room where the printers and other machines are located may be sectioned off from the work desks. One of the ways to inject innovation into this entire process is via artificial green wall panels. They can readily differentiate one portion of a space used for one purpose from another area used for a different purpose.
Benefits of Using Our Artificial Green Walls for Offices
Low Maintenance
It's a well-known fact that a traditional living plant wall necessitates regular maintenance work. This includes ongoing pruning, de-weeding, watering, and chemical treatment to keep pests and fungi at bay. The natural grass wall must also be regularly monitored. 
Artificial green walls, on the other hand, require little to no maintenance. It looks aesthetically pleasing all year long without the need for water, chemicals, or ongoing monitoring. This ultimately saves both time and money.
Ultra-Realistic
Our artificial green wall panels are a wonderful alternative if you want to completely change the appearance of the inside or exterior of your office. Many company owners are increasingly aware of the magnificent advantages of putting up a gorgeous synthetic garden wall to accentuate their office space. Regardless of your needs, we have a palette that will complement your business and bring a touch of serenity to your office.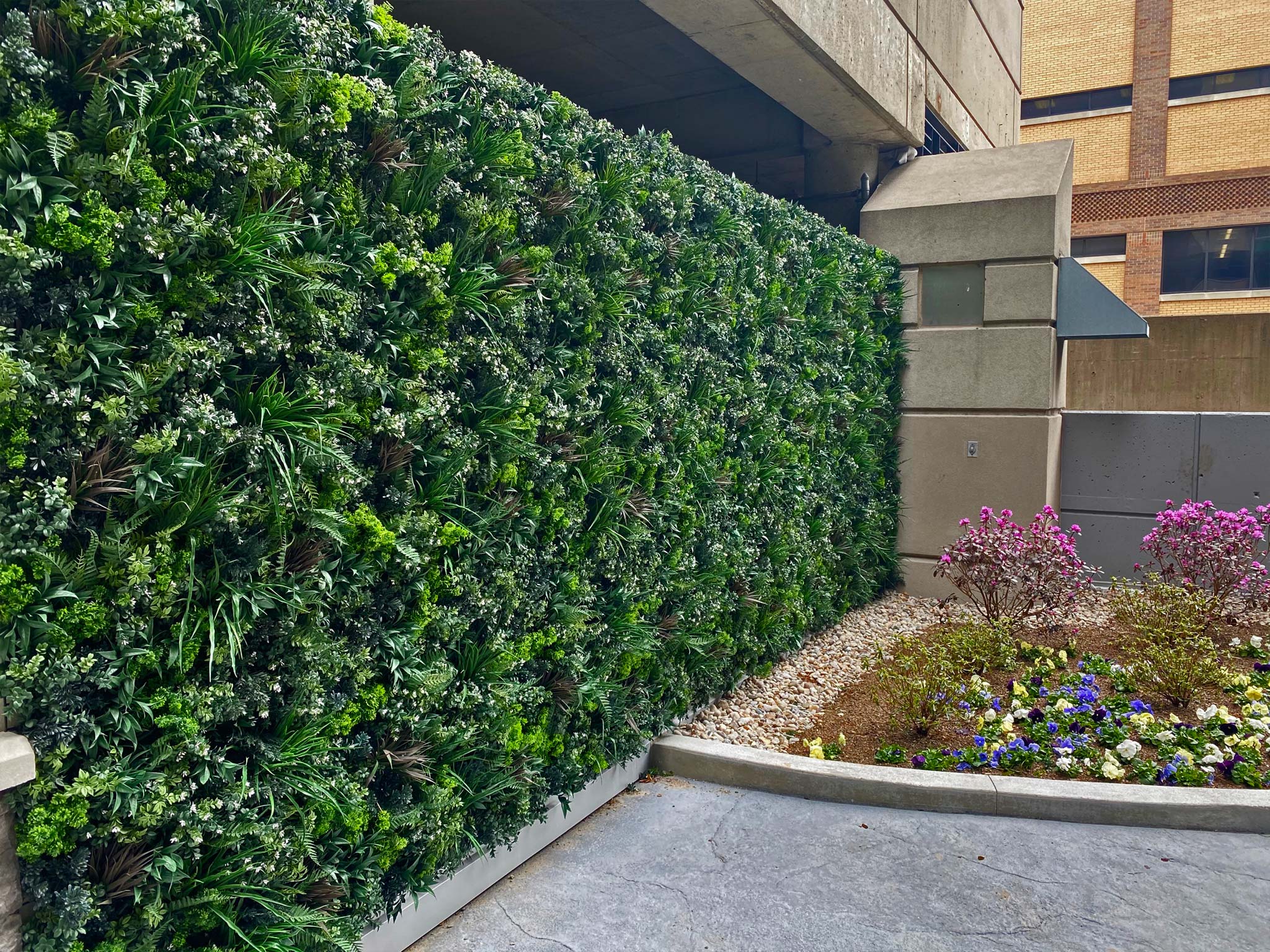 Resilient and UV Resistant
At Calico Greens, we adhere to the highest possible standards of quality. In contrast to genuine plant walls, which fade and disintegrate over time, our synthetic walls provide many years of protection and beauty. After a year of UV exposure, our plant showed no apparent color loss. Our green walls are also resistant to the sun's UV rays, which is an added benefit.Our synthetic plant walls are also highly fire-resistant. They are built using flame retardant foliage that has a Class A rating according to the National Fire Protection Association (NFPA). This ensures that the artificial plant walls provide the necessary protection in addition to their aesthetic properties.
Various Other Commercial Application Ideas:
Gyms & Wellness Centers
Grand Entryways
Branding & Signage
Events and more
Calico Greens takes pleasure in creating custom artificial plant walls for both residential and commercial use. Our products are engineered to last a long time, require little maintenance, and look immaculate. Because they are both ultra-realistic and hyper-modern in appearance, they establish an amazing first impression on anyone who sees them. 
If you're looking to install a magnificent artificial green wall that will be a delight to both employees and customers, contact us today to schedule a free consultation. Our friendly customer service and highly skilled technicians are always available to walk you through every step of the process, from design conception to installation.