Stunning Artificial Green Walls
Bring life into any space with a realistic living green wall by Calico Greens.
Ultra-realistic foliage
Artificial green walls from Calico Greens are created by seamlessly connecting customizable plant mix panels. Our synthetic plant panels capture realistic colors, shadings, dimensions, and even the movement of real plants. A custom wall can be installed indoors or in outdoor areas like common areas and roof terraces. The UV-stable foliage option ensures minimal fading and lasting beauty.
Our high-quality artificial green walls help transform spaces for the better. By adding the ultra-realism of luscious, synthetic plant life, they help make indoor and outdoor spaces far more inviting and comfortable. Unlike natural plants, they require no maintenance, are less likely to attract insects, and maintain a consistent green and lush look throughout their long life.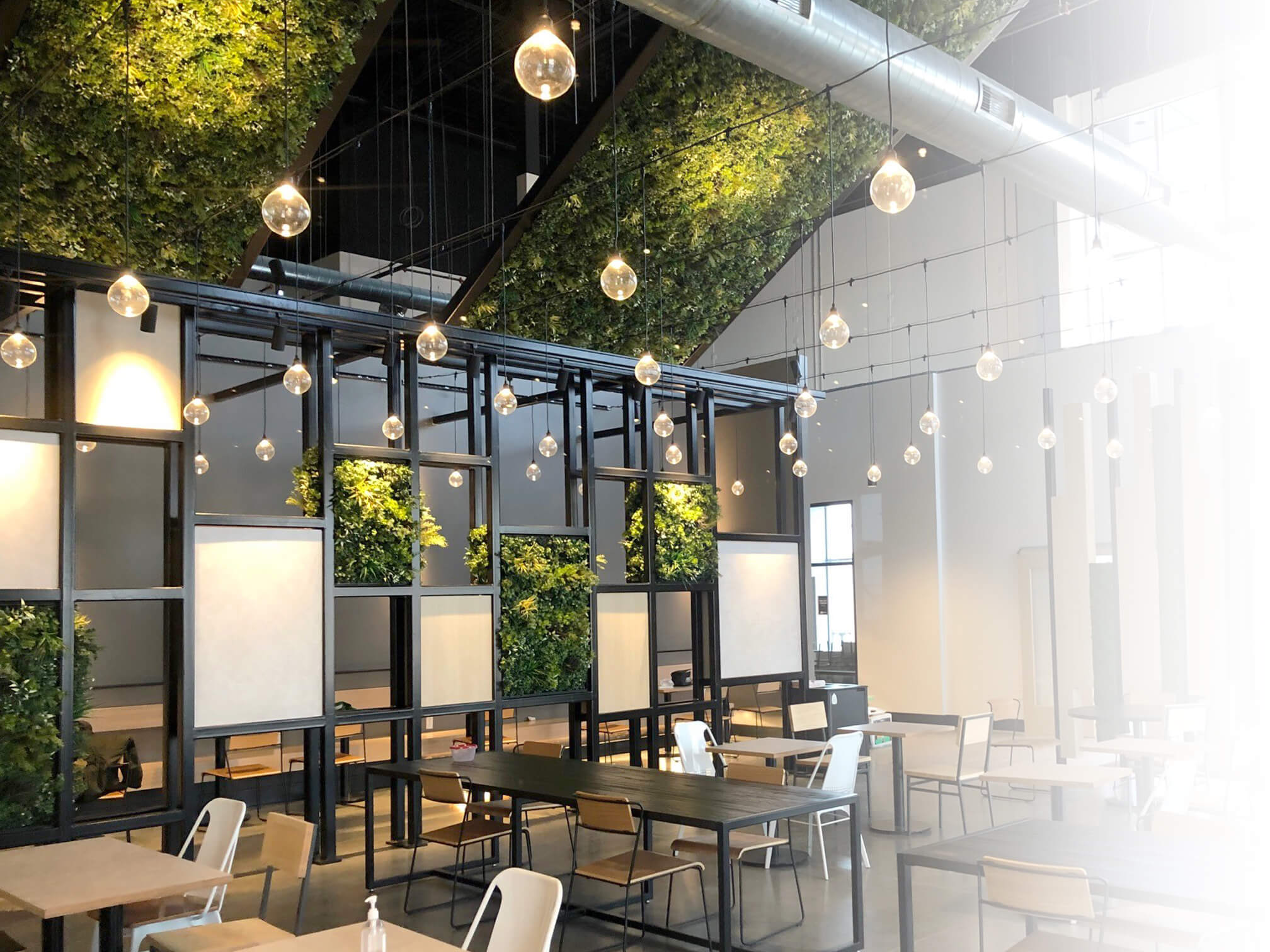 Bring life to your interiors.
An artificial green wall displays a colorful design into any space, offsets non-functional walls, and functions as an attractive privacy screen second to none. Brighten up a drab, lifeless office or other commercial or residential areas with the texture and vibrance from artificial plants artfully crafted by Calico Greens. Our artificial green walls help add an ambiance of flourishing nature and life to spaces.
Our eye-catching artificial green wall displays can be the center of attention on an accent wall or spread throughout an area to achieve a more complete, nature-esque atmosphere. However, in many spaces, our artificial green walls can also serve as clever and attractive privacy screens, helping create much-needed separation without making individuals feel trapped or left without any sort of visual appeal.
Features of Artificial Green Walls
Maintenance Free
Unlike natural plants, artificial green walls are maintenance-free. They never need to be watered or trimmed in order to maintain their glowing, green, and full appearance. They also do not produce plant allergens, such as pollen. So instead of spending time trying to keep up with dozens of needy natural plants, you can sit back and enjoy the inviting ambiance our remarkable artificial green walls provide.
However, time is not the only thing you can save with an artificial green wall. Living walls and living wall panels can also be incredibly costly over time. Whether you choose to care for the plants yourself or hire someone to do it for you, natural green walls require consistent maintenance and even plant replacement, which all adds up eventually. With our maintenance-free artificial green walls, expenses are not ongoing.
Versatile
Artificial green walls are incredibly versatile. Our high-quality synthetic plant walls come in a variety of styles and configurations, helping to fit your indoor or outdoor space's unique style and feel. They can be strikingly lush and filled with multiple colors and types of artificial plants, or they can be on the simpler side with just one kind of plant and a few vibrant shades of green.
Our artificial green walls can also help fulfill various purposes and applications. For example, panels can be strategically placed throughout a space to create a more complete, natural ambiance, or they can be put together to create a prominent accent wall. Artificial green walls can also be installed as attractive privacy screens to help separate areas without sacrificing overall aesthetics.
UV Protected
Warm sunshine can help natural plants in a living wall grow, but it can also dry them out and potentially kill them, making living walls look dull, lifeless, and even sad. Fortunately, our artificial green walls never grow and become untamed or dry out due to warmth and sunlight. They stay perfectly manicured and green throughout their extended life on indoor or outdoor walls. They are largely unaffected by consistent sunshine such as this due to their enhanced UV protection.
With UV protection, our artificial green walls resist fading over time. This helps them retain their vibrant shades of green, white, yellow, purple, brown, and more. As a result, our artificial green walls can be appreciated for far longer than natural plants without having any lapse in their color or overall look.
Fire Rated
At Calico Greens, we value the safety of our customers and their property. Our artificial green walls help keep residential and commercial spaces safer by being highly fire-rated. Sadly, dead or dry natural plants in a living wall can be the perfect fuel for a fire. Thankfully, our high-quality artificial green walls are fire-rated, making them resistant to blazes of fire. As a result, our artificial green walls are less likely to catch on fire. In some cases, they can even help reduce the spread of an inferno in indoor or outdoor spaces, making our synthetic plant walls a much safer form of dynamic wall decor.
Looks great for
Condominiums
Grand Entryways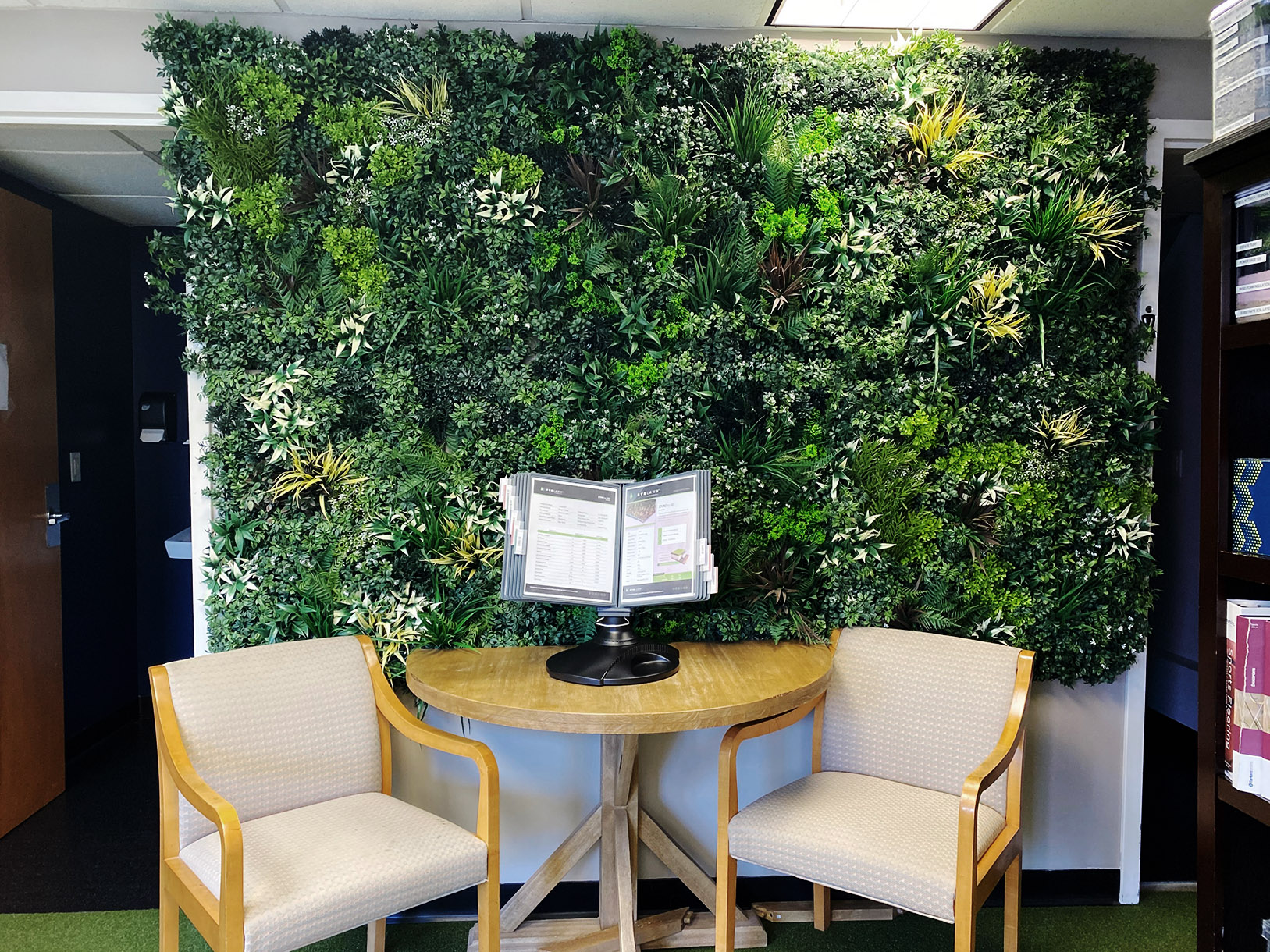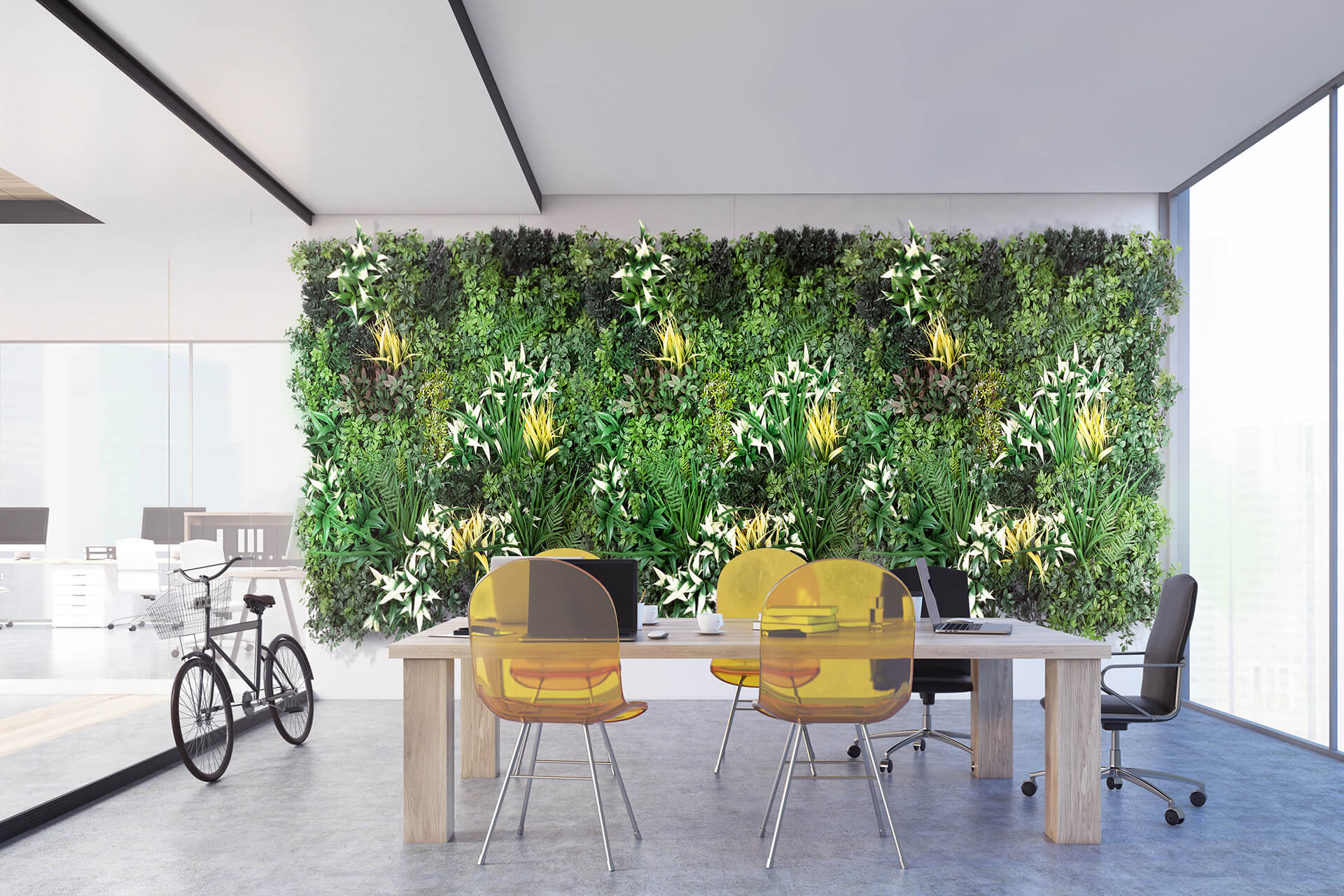 Artificial green
wall benefits
Artificial green walls from Calico Greens are built with strict standards of quality in mind and therefore offer our customers a number of considerable benefits. First and foremost, our synthetic plant walls are hyper-realistic and made up of vibrant, natural colors. The detailed textures and shades of our artificial plant can add to the overall appeal of nearly any indoor or outdoor space.
Our artificial green walls are also maintenance-free and incredibly long-lasting. This helps save you time and money in the long run. No longer will you have to worry about watering and trimming natural plants to keep living walls and their areas looking their best for you, your guests, or clients. Once installed, our beautiful, high-quality artificial green walls can be enjoyed without all of the hassles of constant upkeep.
As a result of benefits such as these and so many more, our high-quality artificial green walls are ideal additions to help transform both residential and commercial spaces and improve their aesthetics and atmosphere. The mere presence of our evergreen artificial plant walls can create dramatic wall-length statement pieces, enhance the overall ambiance, and add a layer of privacy in the right configuration. Altogether, our exceptional artificial green walls are highly versatile, beneficial, and desirable.
Ultra-realistic design mimics real plants
Durable panels manufactured to ISO 9001
Seamless panel to panel integration
Lightweight promotes airflow
100% customizable indoor and outdoors
Areas Served
We provide our artificial green wall products throughout North America, including the following locations:
Alabama
Arizona
California
Carolinas
North Carolina
South Carolina
Colorado
Florida
Georgia
Idaho
Illinois
Indiana
Iowa
Kansas
Kentucky
Michigan
Minnesota
Missouri
Montana
New England
New Jersey
New Mexico
Nevada
North Dakota
Latest from the Calico Greens Blog
Beautiful artificial living walls from Calico Greens are available for offices to help create more relaxing break areas. In today's fast-paced...
read more
Transform your space today!