Commercial Green Wall Panels

At Calico Greens, we create artificial commercial green walls for businesses and commercial applications that want to liven up their space and create a scene that is memorable, welcoming, and eye-catching. It can indeed be a pleasant surprise for employees and customers to see a beautiful green wall compared to the typical art and paintings. Learn more about why our custom artificial plant walls are so popular among business establishments.
Design Of Our Artificial Wall Panels
What is immediately noticeable about our commercial artificial green walls is how realistic they look. They look just like a regular, pristine plant wall, with none of the drawbacks such as regular maintenance, plants dying, or attracting insects or other pests. And not only do our green walls give a modern, lively look to the room, foyer, or balcony where they are installed, they can be installed just about anywhere! Outdoor artificial wall panels are just as practical as indoor panels.
Our synthetic green walls are hyper-realistic visually and they can be installed indoors or outdoors, they are guaranteed to liven up any dull spaces and create a more attractive environment. Wherever they are placed, they add to the overall aesthetics and generate a more soothing environment that both customers and employees will appreciate. And this comes with none of the hassles that come with a living green wall, such as having to worry about plants dying off, fertilizer, dirt, waiting for the plants to bloom, leaks, watering, and more.
Our Commercial Artificial Green Walls Are Low Maintenance
While a living plant wall requires a lot of maintenance, our artificial wall panels require practically none, which will save you time and money. A regular living wall requires frequent maintenance and needs to be looked after closely. A mistake made in terms of caring for a living wall can mean a wall of unsightly dead plants. With a live plant wall, you'll also have to concern yourself with watering it frequently, watching for pests (since they like dirt), fertilizing it, de-weeding it, potential allergens, and more. To sum it up, although a living wall closely watched can look magnificent, it can also be a lot of work or money to look after.
With our commercial artificial green walls, once it is set up, you can almost forget about it. It is simple to clean and requires no special lighting or water that a living wall would. It quickly installs into your space and doesn't require you having to wait for weeks or months for it to bloom and look its best. And when you want to change the look of it, the panels can simply be swapped out. To change the look of a living wall would be much more time-consuming and costly.
Our Custom Artificial Plant Walls Are Built To Be Durable, UV Stable & Fire-Rated
We build all of our artificial wall panels with strict standards in mind. This means they are built to be durable and long-lasting. In other words, you won't have to worry about them quickly degrading in quality, becoming drab, and falling apart. Also, our green walls are also UV stable. In other words, they will retain their beauty and not have their color fade from constant sunlight exposure. Finally, our commercial green wall panels are fire-rated, which not only protects the needs of everyone in your building but also satisfies municipal building code requirements.
Interior Design
Installing our artificial wall panels is an excellent way to add to the style and ambiance of any interior space. Besides adding aesthetics and elegance, our green walls also create a calming and more inspired atmosphere. Additionally, our green walls can be a simple way to create a division between one part of a room used for one purpose and another part of the room used for a separate purpose.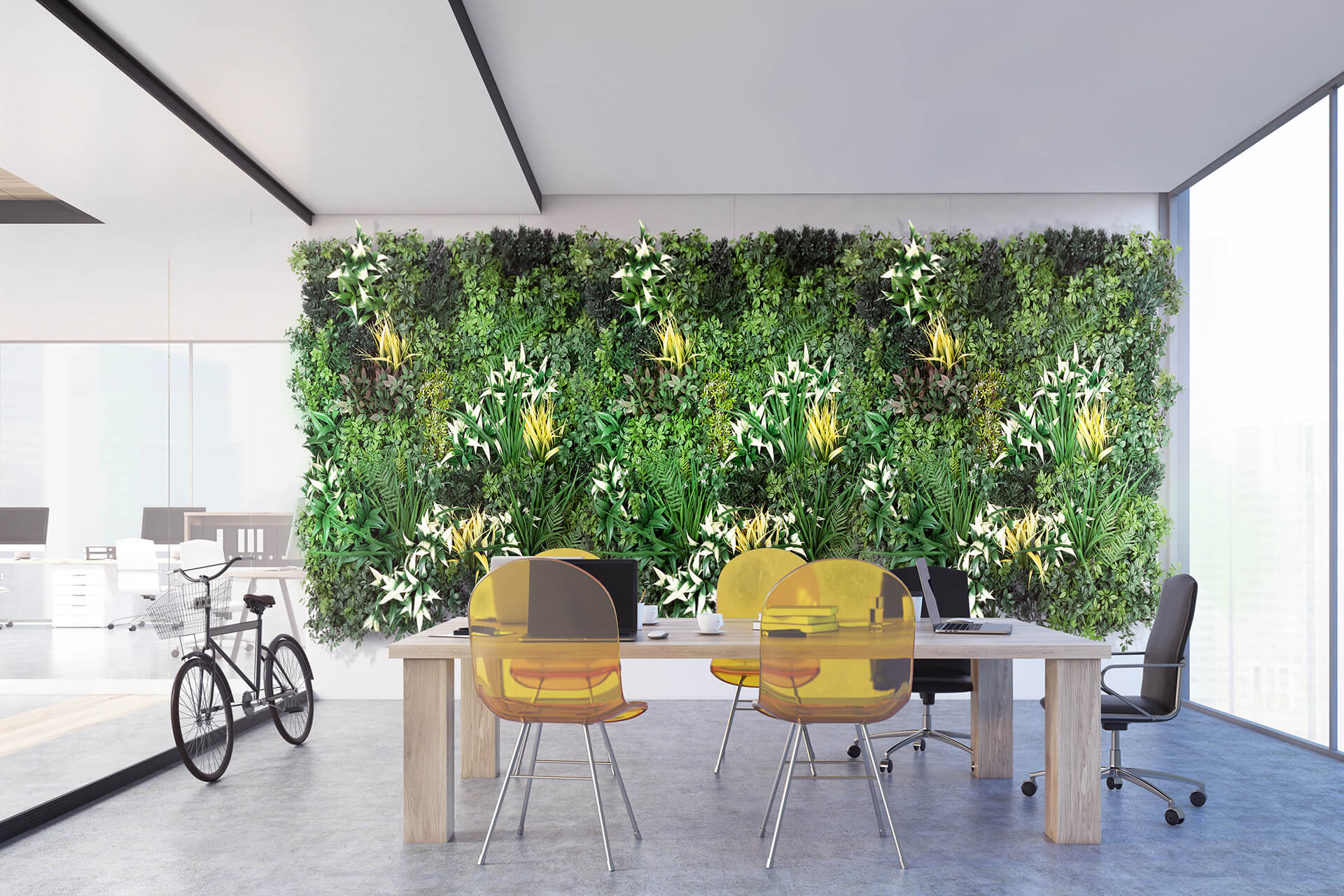 Office Spaces
The vibrance of our artificial green walls will not only improve the look of your office space, but it will also create a more soothing and relaxed atmosphere. With this helping to lower stress, your employees may feel they can focus more, be more productive, and get more work done. Furthermore, while many office environments look boring and dreary, having a beautiful, custom artificial plant wall is a great way to liven things up.
Retail Stores
In this day and age of customers ordering things online, retail stores need to do all they can to compete. One fantastic way to do so is by creating an experience for customers. By adding memorable, lush, amazing-looking commercial artificial green walls, customers will have more of a reason to actually stop by your store in person. Our artificial walls add depth and character to your retail space, making more of an impression on visitors. Finally, your retail store won't have to put up with the inconveniences of a living grass wall, such as dirt potentially getting all over the floor and insects making a home in it.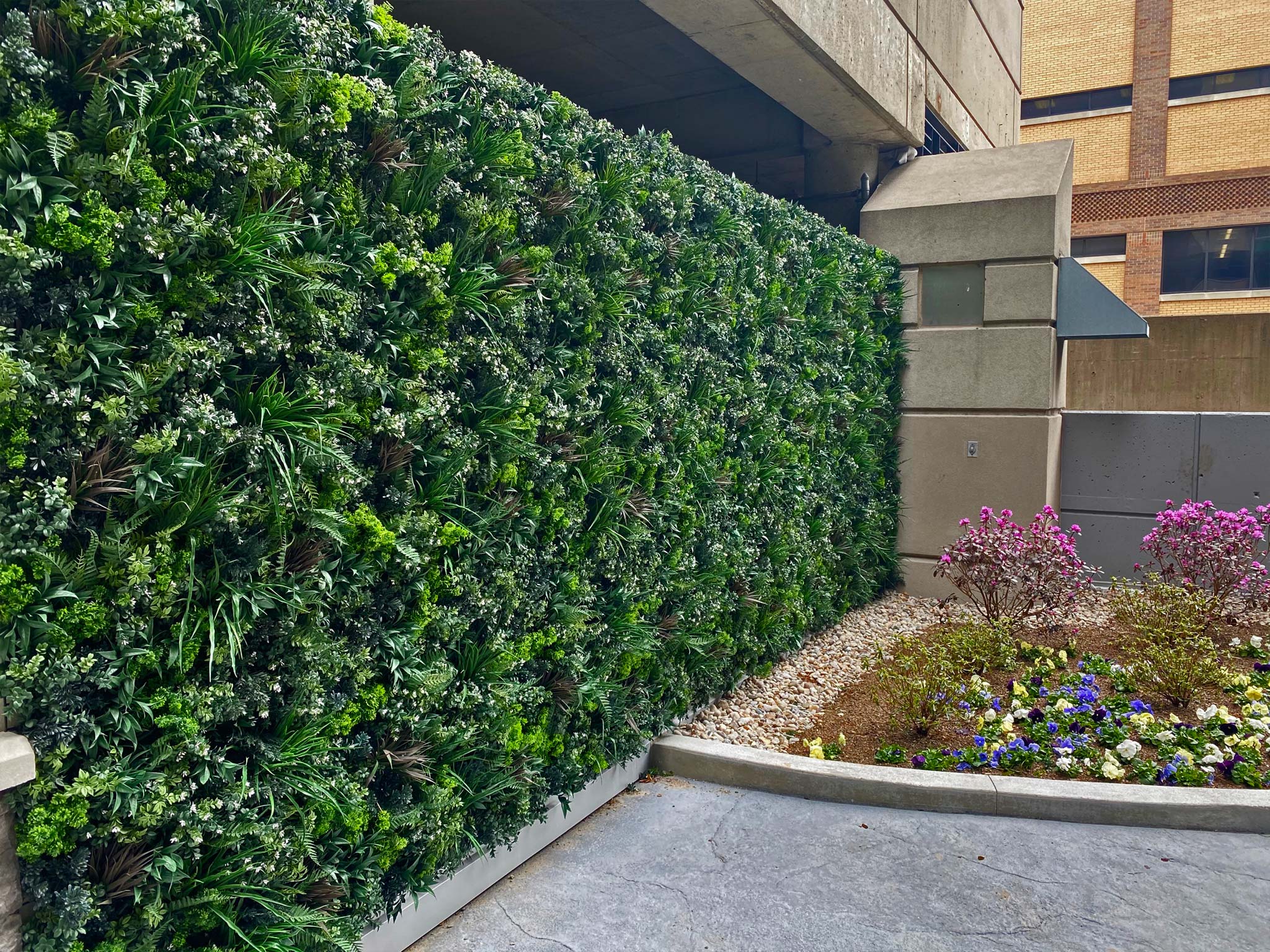 Accent Walls
If you have the urge to show off your creativity and uniqueness, using our commercial artificial green wall as an accent wall can be a great idea. Our beautiful green walls are sure to stand out as an accent wall and draw people's attention to it. Keep in mind; we offer fully custom artificial plant walls, so we can create the exact wall you have in mind to impress visitors and guests.
Various Other Commercial Application Ideas:
Gyms & Wellness Centers
Grand Entryways
Branding & Signage
Events and more
At Calico Greens, we pride ourselves on creating custom artificial plant walls that fully align with your needs. Our grass walls are made to last many years, be low maintenance, and look beautiful. They are a great way to create a first impression for whoever sees them as they are realistic looking and hyper-modern. Because they are built to be highly durable, quick to install, and easy to take care of, our artificial plant walls provide so many benefits with little to no maintenance.
So if you're interested in your very own commercial artificial green wall to delight not only your employees, customers but also yourself, contact one of our experts today and get a free quote.