Artificial Green Walls for Restaurants
At Calico Greens, our team provides artificial green walls for a variety of commercial businesses, including restaurants. Our beautiful fake plant walls are a great way to bring greenery to indoor and outdoor spaces for restaurants without forcing them to worry about maintenance and upkeep. Consider our synthetic living walls for your dining room, patio, and more today!
What Are Artificial Green Walls From Calico Greens?
Artificial green walls from Calico Greens are easily configurable and installable wall panels covered in lifelike artificial foliage. They are made up of synthetic materials that mimic the look and feel of traditional plants.
Our fake plant walls are designed to provide all the benefits of conventional greenery for indoor and outdoor decor without the maintenance and upkeep that comes with traditional plants. This makes them highly beneficial for a variety of spaces, including restaurants.
How Artificial Green Walls Can Help Restaurants Stand Out
Many restaurants are constantly looking for ways to stand out from the competition. Fortunately, our artificial green walls can help restaurants create a unique and inviting atmosphere that helps set them apart from other establishments.
At Calico Greens, we offer a wide range of artificial living walls that can fit the unique needs of practically any restaurant. In addition, our synthetic green walls can be installed in numerous ways. This can include everything from installing a fake plant wall directly onto a restaurant's existing wall or spreading our artificial plant wall panels throughout a dining area, providing a more comprehensive look.
Benefits of Fake Plant Walls for Restaurants
At Calico Greens, our artificial green walls offer several benefits for restaurants, cafes, and other dining establishments, including the following:
Aesthetic Appeal
Artificial living walls add a touch of greenery and beauty to nearly any restaurant. Their realistic appearance helps create a relaxing and inviting atmosphere that can help attract and retain customers.
Space Saving
For smaller restaurants that do not have a lot of floor space, our fake plant walls can be an excellent way to add some greenery to your dining area without taking up valuable floor space.
Long-Lasting
Traditional green walls can sadly fall apart after just a few weeks or even days. Thankfully, our artificial alternative resists fading and other depreciating factors, providing long-lasting greenery and beauty for your dining establishment.
Low Maintenance 
At Calico Greens, our synthetic living walls require very little maintenance. Unlike conventional plants, they do not need watering, pruning, or fertilizing, which can be time-consuming and expensive. This makes them ideal for busy restaurants that do not have the time or resources to care for traditional plants.
Cost-Effective
Our artificial green walls are also cost-effective in the long run. This is because they do not require ongoing maintenance costs like traditional plant walls do. This can help restaurants save money over time while still offering pleasant greenery.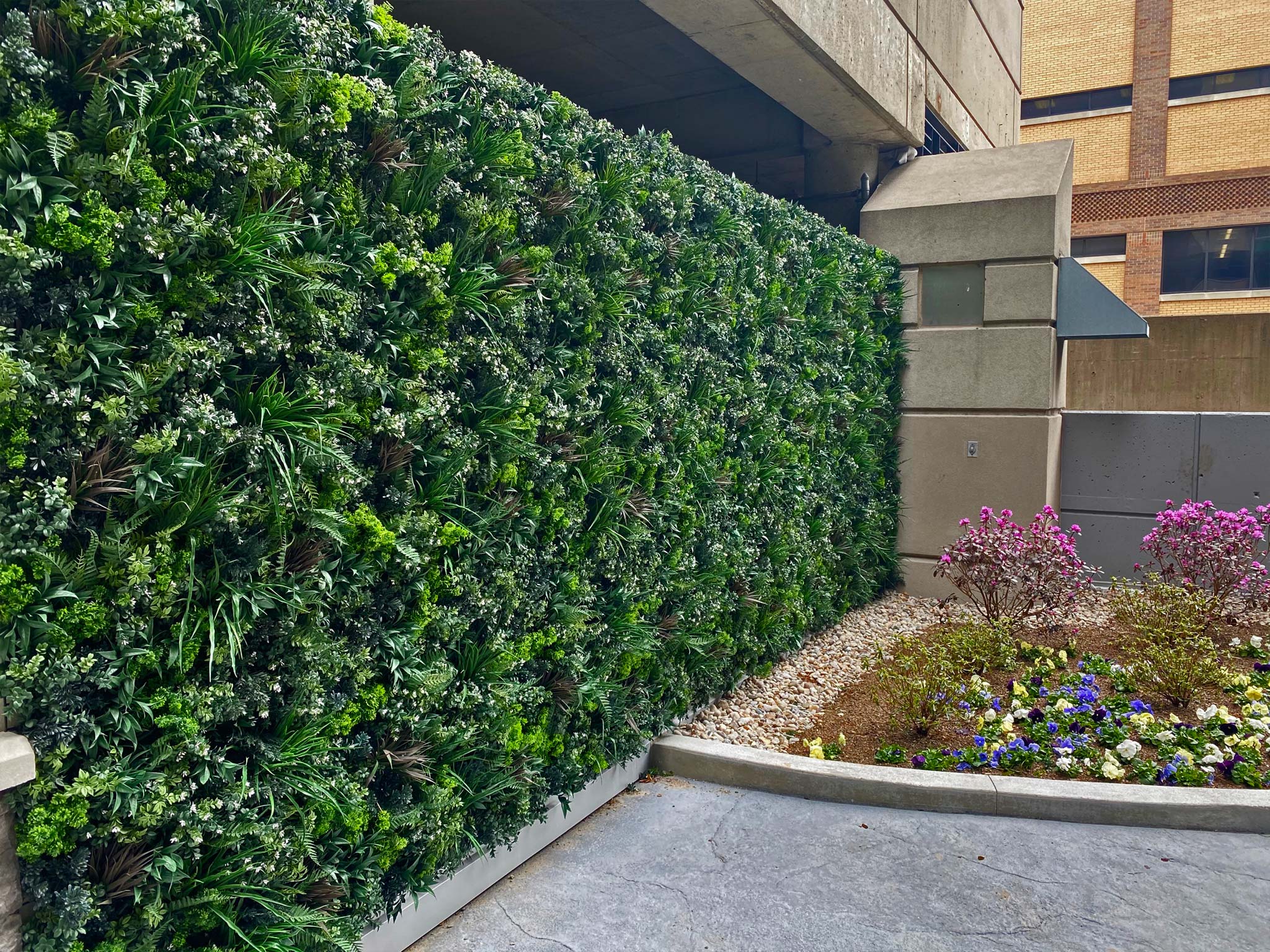 Why Restaurants Should Order Artificial Green Walls from Calico Greens
Calico Greens is a leading choice when it comes to artificial green walls. Our company has years of experience in designing fake plant walls for a variety of businesses, such as restaurants, cafes, and others. One of the key advantages of choosing us at Calico Greens is our commitment to quality. We use only high-quality materials and take great care to ensure that each of our green wall panels is produced at high standards. Our team also offers exceptional customer service, so we can help identify the right type of artificial living wall to fit your restaurant.
Various Other Commercial Application Ideas:
Commercial Buildings
Shopping Centers
Condominiums
Wedding Venues
Resorts & Hotels
Spa & Wellness Centers
Terraces
Grand Entryways
Branding & Signage
Rooftops, decks & patios
Events and more
Contact Us Today to Get a Quote for Your Restaurant!
Artificial green walls from Calico Greens are an excellent way for restaurants to add some greenery and beauty to their indoor spaces. Our fake plant walls are a great choice for restaurants that are looking for a high-quality, long-lasting, and cost-effective solution for indoor or outdoor decor. Contact us at Calico Greens today to learn more about our available synthetic plant wall options and get a quote for your restaurant!