Artificial Green Walls for Retail Stores
At Calico Greens, our artificial green walls offer a unique way to help beautify retail stores across the United States. Unlike traditional green walls, our synthetic plant walls require little maintenance, last for years and years, and never look less than their best. Explore our collection and consider adding one or more of our artificial living walls for retail stores to your location today!
Artificial Green Walls Explained
Artificial green walls are a fairly recent innovation that combines the beauty of plant life with the sustainability and low maintenance of synthetic materials. As such, our artificial living walls are easily installable and configurable wall panels that feature various forms of beautiful synthetic plants. They can be organized in any way you choose and installed onto nearly any wall or structure – both indoors and outdoors. In doing so, our artificial green walls can add stunning greenery to nearly any space for retail stores.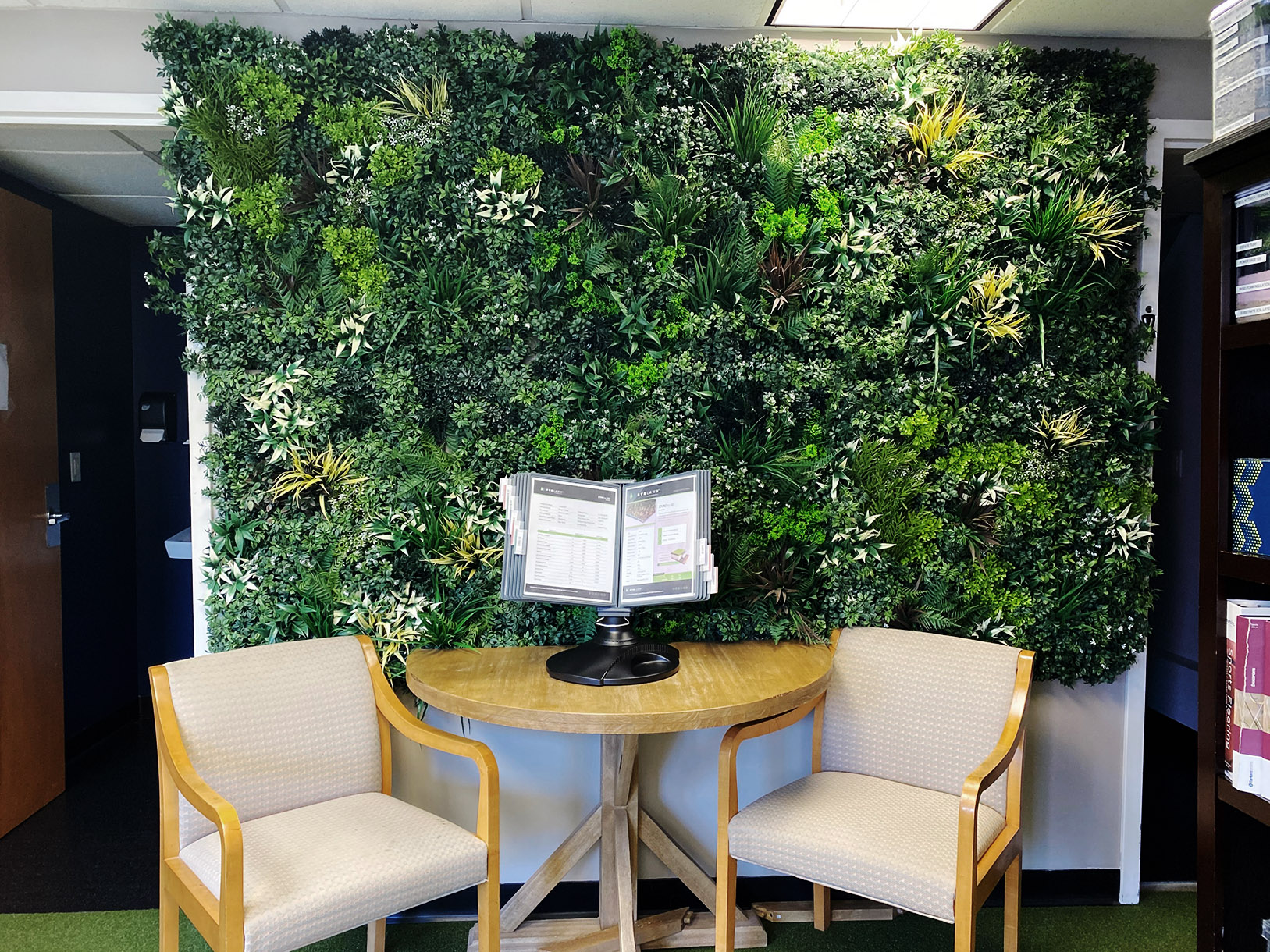 Benefits of Our Artificial Living Walls for Retail Stores
Adding a synthetic plant wall to your retail store can offer it, your customers, and your employees a number of benefits, including:
Beautifying Spaces
Plants of all kinds provide their inherent beauty wherever they are, including in retail stores. At Calico Greens, our artificial green walls are made up of hyper-realistic synthetic plants. In doing so, our plant wall panels capture all the colors and textures that make plants so eye-catching. Ultimately, this makes our artificial living walls a convenient way to easily beautify spaces in and around your retail property.
Fire-Rated
For retail stores across the United States, safety is a priority. This includes what materials they use in and around their business. To help meet strict safety standards for commercial and residential properties, our artificial green walls are fire-rated. This means that they resist catching fire. In doing so, they are a safer form of wall decor for retail stores.
Requires Little Upkeep
Unlike conventional green walls that are filled with potted plants, our artificial green walls require little upkeep. The synthetic makeup of our plants allows us to eliminate maintenance responsibilities like watering, repotting, and more. This allows your retail store to add the beauty of plants to your spaces without having to worry about the time and expenses it takes to maintain them. All that our synthetic living walls require are occasional dustings and cleanings, like nearly any other form of indoor or outdoor decor.
Long-Lasting
Sadly, the life expectancy of plants can greatly vary, and even with consistent upkeep, they may suddenly wilt, wither, or die, leaving your once-green wall brown and depressing. Fortunately, with artificial living walls from us at Calico Greens, you never need to worry about this! Our synthetic green walls are long-lasting and UV protected. As a result, they resist fading and more, so they can continually look their best for your retail store.
Retail Applications for Artificial Green Walls
Given the easy installation and configuration of our versatile artificial living walls for retail stores, they can be utilized to provide greenery and beauty in several ways. Some of the most common applications for our artificial green walls include:
Accent walls
Interior decor throughout a space
Outdoor decor around a building
Privacy panels
And more!
The limits of what our synthetic green walls can provide your retail store are bound only by your imagination. Ultimately, if you have a space that can benefit from added greenery and beauty, you can add it with our artificial plant walls!
Various Other Commercial Application Ideas:
Gyms & Wellness Centers
Grand Entryways
Branding & Signage
Events and more
Explore Our Collection & Get a Quote Today!
At Calico Greens, we offer a variety of artificial green walls for retail stores all across the United States. Our collection of synthetic plant wall panels can help add beauty to spaces both inside and outside a retail space, helping to attract and impress your customers and employees. So contact us today to learn more and get a quote for our artificial living walls for retail stores!