Residential Artificial Wall Panels
If you're looking to liven up your room beyond the traditional designs, then it's time to seriously consider residential artificial wall panels from Calico Greens™. Our artificial wall panels bring life to your interiors by offsetting non-functional walls with a stunningly colorful and realistic display. In addition to the stunning aesthetics, the panels are also remarkably low maintenance, energy-efficient, and cost-effective. 
Our realistic-looking artificial wall panels are created by seamlessly connecting customizable plant mix panels ensuring lasting beauty and minimal fading. This gives them the exact shading, color, and dimensions found in real foliage. Our highly skilled team can design the panels both indoors and outdoors, including on residential roof terraces. In addition, the UV-stable foliage option ensures minimal fading and lasting beauty to your residential property. Our customizable solutions mean there is something for everyone when it comes to our artificial garden varieties.
Our artificial grass wall panels are also ideal for both indoors and outdoor use. You can count on Calico Greens™ for ultra-realistic foliage and artificial green wall decor for residential customers.
Artificial Green Walls Are Ideal For:
SPAS AND WELLNESS FACILITIES
Here are some of the benefits you can expect from Calico Greens' world-class artificial wall panels
Ultra-Realistic Look & Feel
The artificial wall foliage by Calico Greens™ is remarkably realistic in its appearance and color vibrancy. Admirers have reported struggling to tell the difference between an artificial wall from Calico Greens™ and real plants even up-close. So if you're looking to transform your indoor or outdoor decor entirely, consider green wall panels. Homeowners and businesses alike continue to enjoy a customized, seamless, beautiful synthetic garden wall that ultimately looks and feels natural.
Energy Efficiency
Green garden walls from Calico Greens™ have been known to improve your home's energy efficiency. They do this firstly by creating an effective wind and temperature barrier. Research has also shown that artificial green walls can considerably lower the indoor temperature of a home during the summer months by as much as 10 degrees Celsius. This, in turn, results in lower energy costs.
Low Cost & Low Maintenance
With artificial walls, you don't have to contend with ongoing maintenance costs. Homeowners need not worry about the plants dying or losing their luster over time. Even better, owners don't have to worry about continuously watering the plants. There will be no risk of water leaks in the walls, ceilings, and floors either, as these beautiful artificial planted wall gardens do not need any water. Another benefit associated with low maintenance is the fact that, unlike real plants that eventually die, artificial foliage does not need to be replaced as experienced with live plants due to the fragility. Installation is a one-and-done deal that lasts an extraordinarily long time.
Similarly, with artificial green walls, you don't have to worry about bugs and fungus which kill vegetation. With natural vegetation, homeowners only enjoy the initial days when the foliage is green and healthy. Afterward, it succumbs to the elements, heat, cold, lack of water, bugs, and even fungi. But with the artificial wall from Calico Greens™, bugs are in fact repelled by the synthetic material that comprises the panels. Homeowners also continue to enjoy the fact that the artificial foliage cannot be damaged by children or by pets who attempt to break off leaves and uproot the vegetation.
Indoor Design Elements
The artificial living walls by Calico Greens™ can be used for innovative indoor design. Their adaptability makes them extremely versatile and ideal for any kind of remodeling.
Whether in the living room or bathroom, the artificial green wall brings life to otherwise mundane interior decor.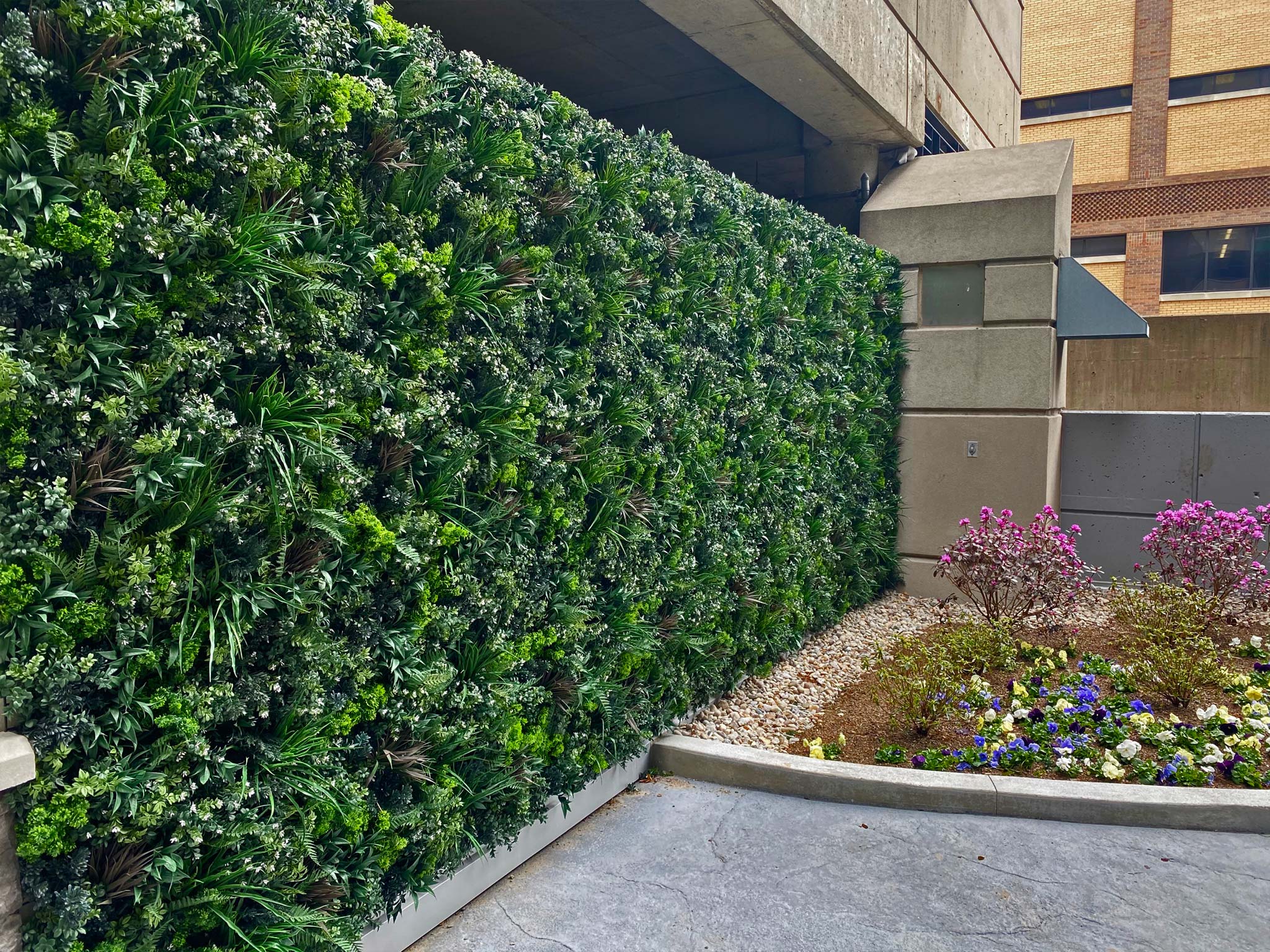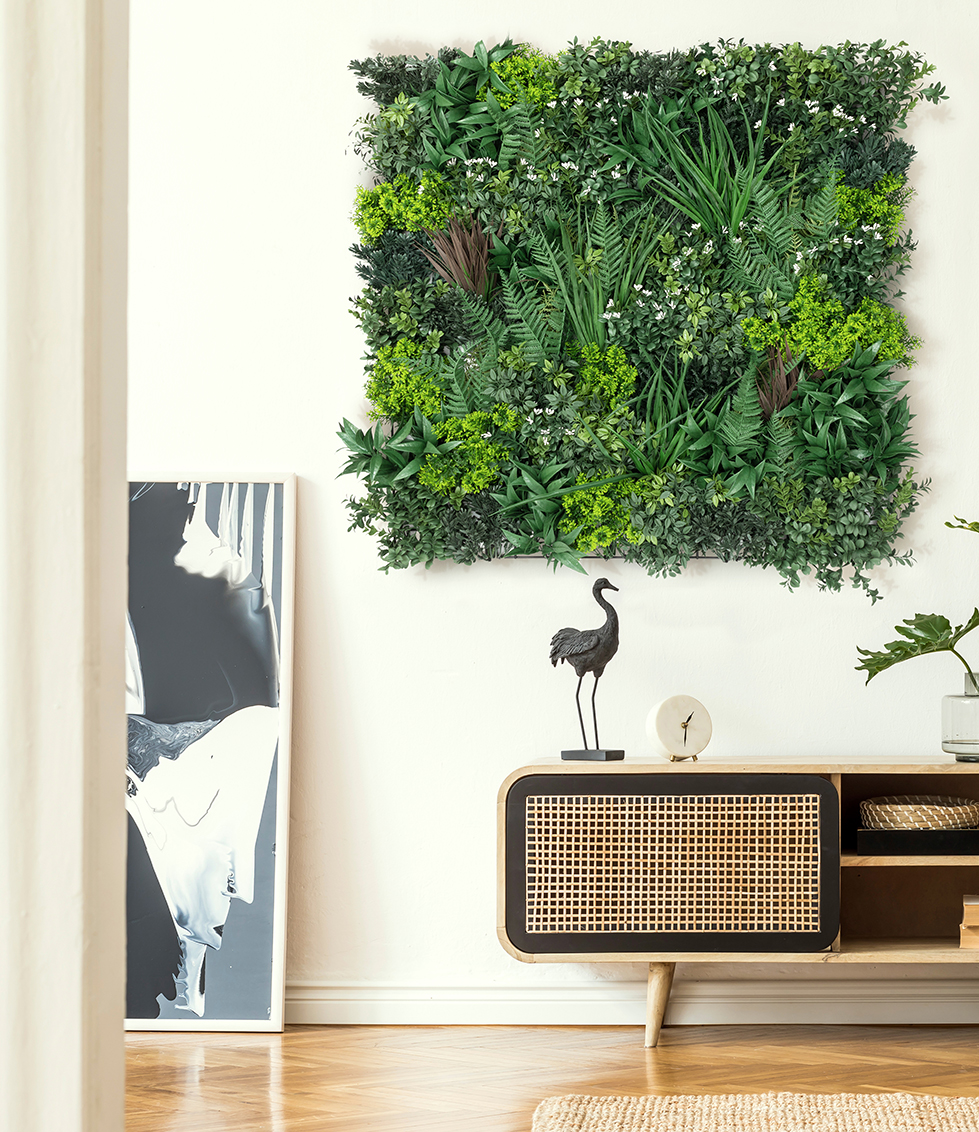 Easy Installation
Whether it's at walkways or an indoor hallway, Calico Greens™ innovative DIY installation techniques ensure your artificial green wall panels are set firmly in place yet still easily transported. This makes it easy to maintain the surface underneath or even move the artificial green panels if you need to move houses. In addition, this allows for a mess-free environment which allows you to have more time to enjoy your beautiful wall.
Contact us
Calico Greens™ is committed to providing world-class customer service. We understand that each customer is unique, and we work hard to ensure a fully customized experience. Contact us today for more information.
At Calico Greens, we pride ourselves on creating custom artificial plant walls that fully align with your needs. Our grass walls are made to last many years, be low maintenance, and look beautiful. They are a great way to create a first impression for whoever sees them as they are realistic looking and hyper-modern. Because they are built to be highly durable, quick to install yourself, and easy to take care of, our artificial plant walls provide so many benefits with little to no maintenance.
So if you're interested in your very own commercial artificial green wall to delight not only your employees, customers but also yourself, contact one of our experts today and get a free quote.