About Calico Greens
Calico Greens continues to be a leader and a well-known name in the sale and DIY installation of artificial green walls. Not only do our synthetic green walls add to the aesthetics of any location they are in, but they also help to bring life to a space and make anyone in it feel closer to nature without the hassles of tending to live plants.
Whether it's for residential or commercial applications, Calico Greens is experienced at creating artificial wall foliage that looks just like real plants. Every product of ours is made right here in the United States of America. Owing to our staff's overall skill and confidence, we guarantee we can provide you with an artificial green wall that can satisfy your needs.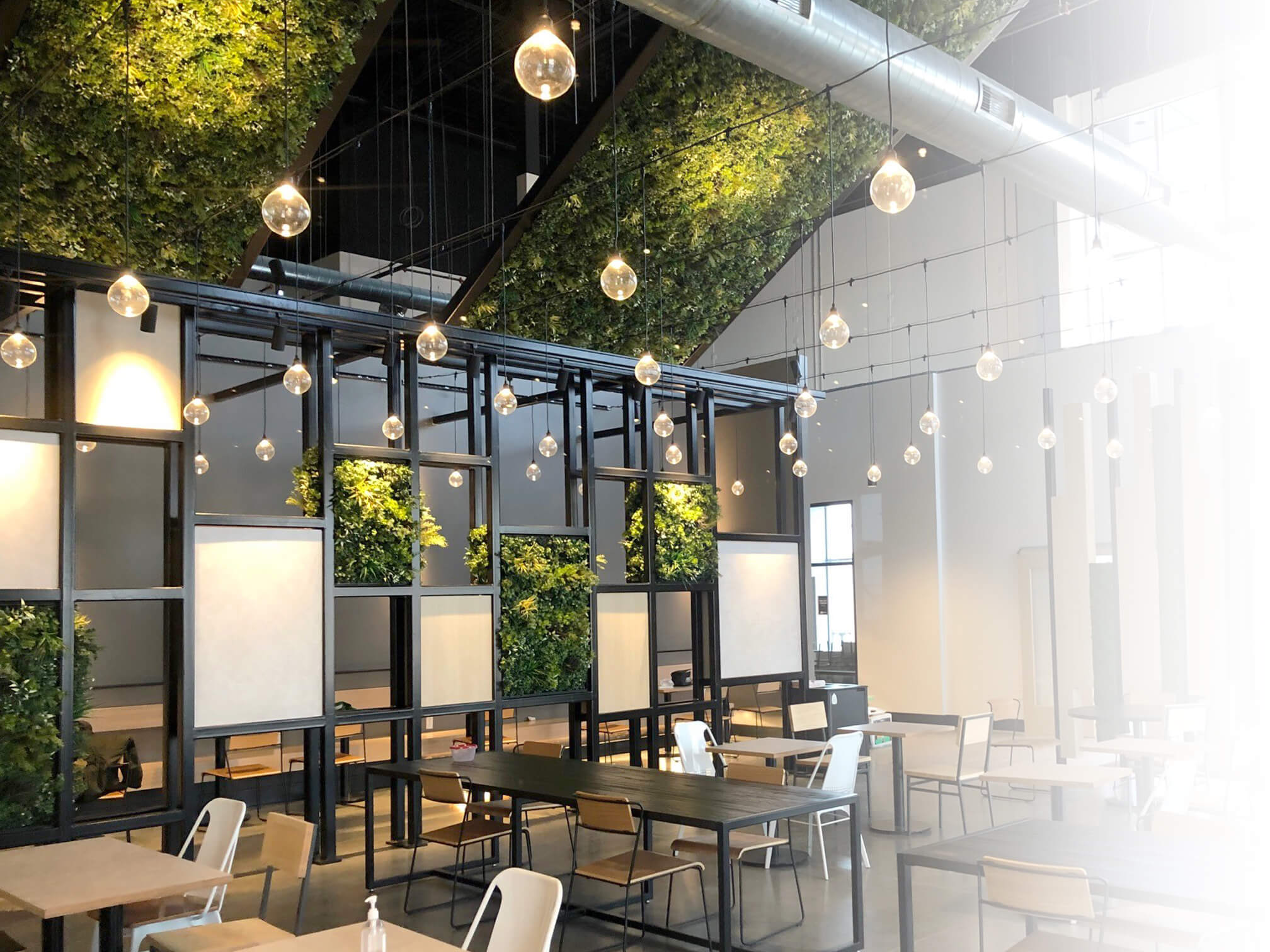 Artificial Green Wall Foliage
With a synthetic planted wall, you don't have to worry about the common drawbacks that affect actual plants. With Calico Greens artificial plants for your green wall actually saves you the hassles of dealing with dead or dying plants. No worrying over how to nurse an unhappy plant in your garden wall back to health. No more battling one plant dying and trying to take out its neighbors with swaths of them turning an unsightly brown color. Our faux planted walls are also dirt free, saving you further frustration of having to deal with a mess or fear of attracting insects and other pests. No more water leaks, and no more incredible amount of time and resources used in maintenance work.
A major benefit of synthetic green walls is that they are low maintenance. While a regular plant wall would need to be closely watched and monitored for problems, an artificial green wall requires none of that. With our synthetic plant walls, you won't ever have to worry about maintaining them; they always look their best. Besides being built with durability and sturdiness in mind, they are also built to be UV-stable. This means UV light exposure from the sun won't dampen its color.
The beauty of our artificial wall foliage is also something to be highly appreciated. Besides yourself, anyone looking at it will be impressed. In fact, it looks so realistic in terms of its shades and colors that many people won't even realize it is synthetic. Our green artificial walls are well-suited to liven up a wide variety of areas, from accent walls to balconies to grand entryways and much more. If you have a commercial business, you can put one of our walls near where your employees work to help liven up their space and elevate their mood. If you have balconies or patios that could use a bit more privacy, our artificial planted wall makes a fantastic and beautiful privacy screen.
Contact Us For A Free Quote & More Info
If you're interested in having your own stunning synthetic green wall panel at your home or place of business, you can get in touch with us here. Our professional and helpful staff will be glad to answer any questions you have and find the best custom artificial planted wall solution for your needs.
At Calico Greens, we pride ourselves on creating custom artificial plant walls that fully align with your needs. Our grass walls are made to last many years, be low maintenance, and look beautiful. They are a great way to create a first impression for whoever sees them as they are realistic looking and hyper-modern. Because they are built to be highly durable, quick to install yourself, and easy to take care of, our artificial plant walls provide so many benefits with little to no maintenance.
So if you're interested in your very own commercial artificial green wall to delight not only your employees, customers but also yourself, contact one of our experts today and get a free quote.