Artificial Plant Walls for Terraces
Calico Greens is a highly respected supplier of artificial plant walls for terraces and unique outdoor spaces. Whether for residential or
commercial
use, synthetic green walls have emerged as an innovative and effective technique to revitalize dull and uninspiring outdoor areas such as terraces and patios. Today, installing an artificial green wall can transform your terrace into a serene and visually inviting space for family and friends.
There's ample reason to turn to Calico Greens for your artificial green walls: we have accrued tremendous experience in manufacturing and installing ultra-realistic artificial plant walls. All our products are manufactured in the United States of America using FDA-approved eco-friendly materials. Our staff is skilled, dedicated, and committed to total customer satisfaction. As such, we are confident we can provide you with a residential artificial green wall that meets your specific needs.
Why Transform Your Terrace with Artificial Plant Walls
With their system of interlocking panels, artificial green walls have become an excellent way to accentuate any terrace. They've emerged as a symbol of sustainable and eco-friendly living by not only providing much-needed outdoor shade but also creating a peaceful environment for unwinding after a long, stressful day. Let's examine their overall advantages:
Amazingly Realistic
In the past, green walls were made up of actual living plants. The goal was to create an ambient environment that brings nature into our immediate surroundings. But traditional plant walls were cumbersome and expensive to maintain. 
Thanks to advances in synthetic fiber technology, artificial plants walls have become amazingly realistic. Every Calico Greens artificial plant panel contains a seamless panel-to-panel integration that incorporates a vibrant palette of natural tones and hues which mimic real plants in almost every aspect. So if you're looking to breathe new life into your otherwise unremarkable terrace, try our artificial plant walls.
Low Maintenance
One of the most significant advantages of installing artificial plant walls is the minimal upkeep they require. Unlike real plant walls, which must be pruned and watered regularly, synthetic green walls merely require the occasional application of an electrostatic duster or a low-pressure garden hose. This can free up precious time to pursue the activities you are genuinely passionate about.
Consistently Immaculate
While natural plant walls can look inviting, their liveliness is only temporary. Their appearance can be significantly affected by weather conditions, bugs, and pests. Additionally, they must have sufficient sunlight to thrive. Not only is this time-consuming, but it can also be costly.
Artificial plant walls, on the other hand, are incredibly consistent. With their synthetic properties, they are never impacted by adverse weather conditions or fungi, and they look flawless with minimal or no sunlight.
Contribute to Environmental Conservation
Incorporating artificial plant walls onto your terrace is an excellent way to contribute to environmental protection. You'll never have to worry about applying fertilizers or pesticides to the plants, which both release harmful chemicals into the ecosystem.
Reduce Stress Levels & Improve Quality of Life
Artificial Plant walls have also been known to provide a myriad of physiological benefits, such as a significant reduction in stress and improved mental health. That's because they help create a more relaxed and ambient patio environment, which will result in a happier and more peaceful home life overall.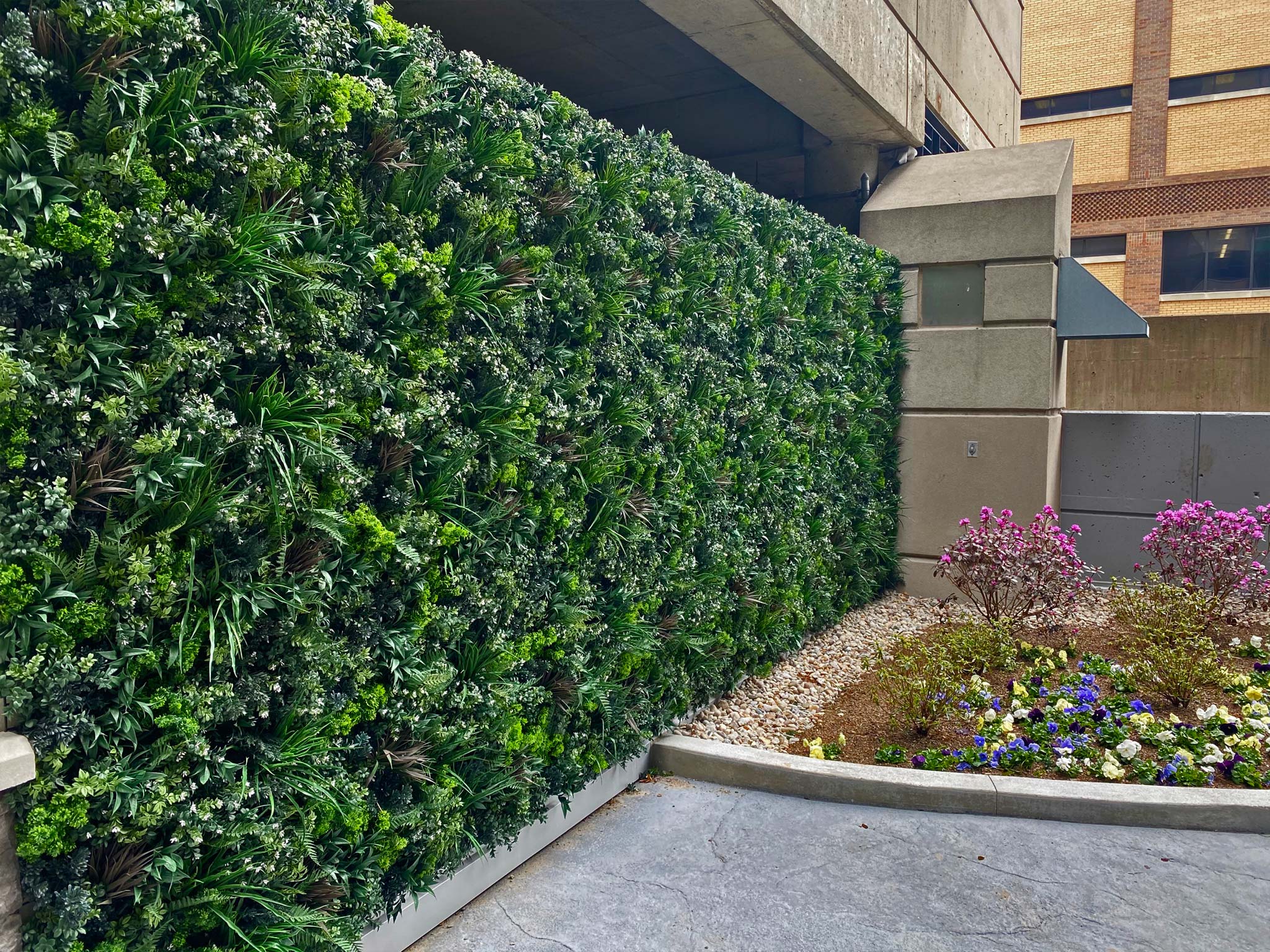 Calico Greens takes pride in creating one-of-a-kind artificial plant walls that fit your specifications, including your terrace. Our products are durable, low-maintenance, and aesthetically pleasing. If you want to make an outstanding first impression for your guests and friends, consider transitioning to our high-quality artificial plant walls. For more information or to schedule a consultation, contact us today.