Artificial Plant Walls Decor for Rooftop Terraces, Outside Patios & Balconies
Artificial green walls from Calico Greens have become an increasingly popular way to accentuate rooftop terraces, outside patios, and balconies. The rise in popularity has come when many residential and commercial entities have been striving to reclaim these spaces as a way to enhance their operations and their aesthetic appearance.
About Our Artificial Green Walls
Our artificial green walls products have the appearance of a classic, pristine plant wall without the hassles of frequent maintenance, fungi, and pest infestation. Our green walls not only provide a contemporary, lively, and zen appeal to any rooftop terrace, patio or balcony, but they are just as beneficial as inside artificial wall panels.
Need amazingly-realistic synthetic green walls? No problem. Technological advancements have almost guaranteed that our product matches and even surpasses the most natural-looking grass panels. If you want to capture the attention of your guests, install our artificial living walls.
They add to the overall aesthetics and offer a more pleasant environment for both customers and employees wherever they are installed. And all this can be achieved without the drawbacks of a live green wall, such as plant death, fertilizer, soil, waiting for the plants to bloom, leaks, and watering.
Installing our manufactured wall panels is an excellent way to improve the beauty and ambiance of any interior space. Aside from their beauty and elegance, our green walls help to create a more serene and inspiring environment. Furthermore, our green walls can be used to readily differentiate one portion of a space used for one purpose from another area used for a different purpose.
How Do They Work?
Artificial wall panels are made with interlocking panels of lifelike synthetic plants known as artificial green walls. Panels are assembled in parts, with the backs of each panel fixed to the wall directly with screws and dowels or with the help of a substructure designed to assist attachment and allow cable and pipe flow down the wall.
Artificial green walls are available in a range of styles and materials, allowing for extensive customization. While low-cost artificial plants are made from a mix of plastic, silk, and paper, choosing high-quality materials ensures their lifespan and appearance for years to come.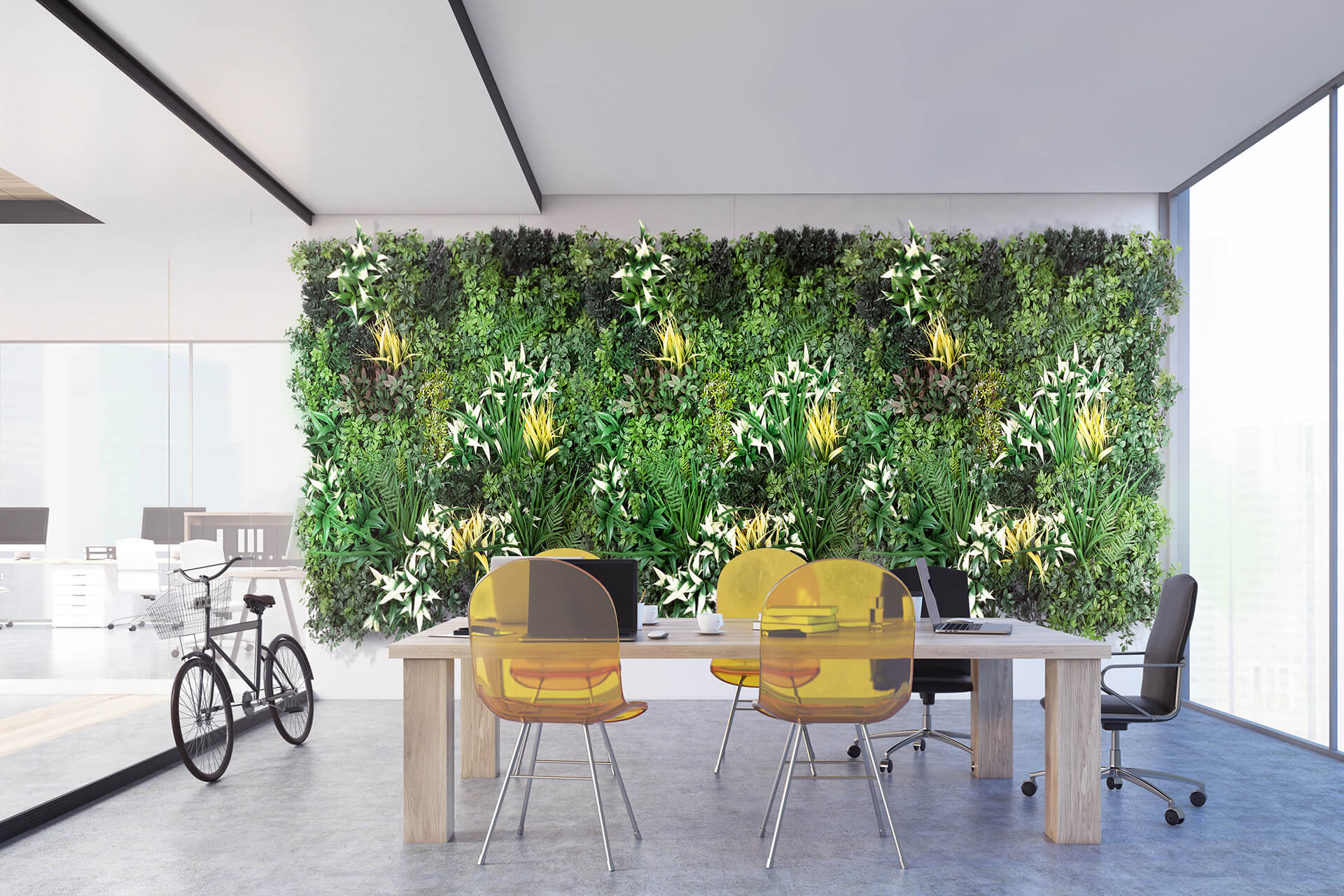 Benefits of Installing our Artificial Living Walls
Conserves Water
Traditional grass walls require water to survive. Installing an artificial green wall can help you save money on your water bill because it uses less water. You can also conserve water, a natural resource that is becoming increasingly scarce with each passing year.
Save Time on Maintenance
With traditional grass, you would be responsible for watering, pruning, fertilizing, planting, and general plant care. This doesn't even begin to tackle the insects that infest them and the chemicals needed to eradicate them. Finally, natural plants will die if not given enough water, sunlight, and nutrients. On the contrary, an artificial green wall is relatively maintenance-free. It only requires occasional cleaning and tidying.
Stunning Aesthetics
Artificial green walls look amazing on any rooftop terrace, patio, or balcony. So whether you're operating a restaurant, club, social gathering, or just a place for people to relax, you can rest in the knowledge that you won't have to deal with dead leaves or branches.
Instead, you'll be greeted by a lush green wall as soon as it radically transforms the overall style and elegance of the space. Whether you want to accentuate your rooftop, patio, or balcony, Calico Greens offers a variety of panels to choose from, each with a specific application in mind.
Contact Us to Schedule an Appointment
Are you considering giving your rooftop terrace, patio, or balcony a truly creative facelift? Calico Greens offers artificial green walls. It's a fantastic way to turn a drab space into a zen panel that's low-maintenance and visually appealing. To schedule a consultation, please contact us right away.
Various Other Commercial Application Ideas:
Gyms & Wellness Centers
Grand Entryways
Branding & Signage
Events and more