Artificial Plant Accent Walls
Artificial plant accent walls from Calico Greens breathe life and beauty into any ordinary space. Our realistic artificial living walls create gorgeous accents in your home or business without the hassle of watering or maintaining plants. Homeowners and businesses alike can enjoy customized faux accent walls that look realistic and feel natural.
Why Artificial Green Walls Make Lively Accent Walls
Greenery adds vibrance to any indoor or outdoor area, and Calico Greens artificial plant accent walls can do just that. And the best part? It can be installed and left alone! Artificial living walls only need to be occasionally dusted. Other than that, they are maintenance-free.
Artificial green accent walls easily offset ugly, non-functional walls. They can also double as privacy screens while displaying a colorful design. Calico Greens artificial plant walls can also create a beautiful grand entryway in your home or business.
Artificial Plant Accent Walls for Your Home
Add a unique twist to your home's interior with a Calico Greens residential artificial plant accent wall. The panels that create each wall seamlessly connect together, and they are low-maintenance and cost-effective. Many homeowners add artificial living walls to their entryway, home office, empty walls in any room, terraces, and decks.
If you have kids and pets in the home, you don't have to fret about them plucking foliage from your synthetic plant wall. Our accent walls are durable, sturdy, and clean, making them friendly for busy households or high traffic areas.
Commercial Uses for Artificial Plant Accent Walls
Businesses naturally face fierce competition, and an artificial living wall can help yours stand out. Not only do commercial Calico Greens artificial plant walls revive a bland business, but they add a sense of liveliness anywhere they're installed.
Some popular commercial locations for our artificial green accent walls include:
Spas & wellness centers
Wedding venues
Office spaces
Retail stores
Rooftops, decks, & terraces
Resorts & hotels
By installing our artificial wall panels, you can add a unique style to any indoor or outdoor area. Our green walls create a calming, inspired atmosphere while adding an elegant aesthetic. Artificial plant accent walls also work well to separate spaces or as partition walls.
Overall Benefits of Artificial Plant Walls
UV stable
Calico Greens products are UV stable, so your artificial plant wall won't fade due to constant exposure, even in direct sunlight. This benefit makes our walls excellent for outdoor spaces such as patios and decks. 
No Maintenance
Unlike traditional plant walls, Calico Greens artificial living accent walls don't need constant watering or re-filling when plants die. Since the wall doesn't need to be watered, the risk of water leakage and messy soil is eliminated. So say goodbye to unsightly dead plants and other related chores such as fertilizing and replacing foliage. Furthermore, the risk of pests and fungi intruding on your wall no longer exists.
Durable & Fire Rated
Calico Greens artificial plant wall panels are built to be incredibly durable in order to withstand weather and time. Our walls won't degrade, fade, or lose their quality. Additionally, Calico Greens plant walls are fire-rated for superior safety at any home or business. 
Energy Efficient
Faux plant accent walls from Calico Greens can improve your home or business's energy efficiency. The walls act as an effective wind and temperature barrier, which can decrease the indoor temperature by several degrees. As a result, you can experience lower energy costs.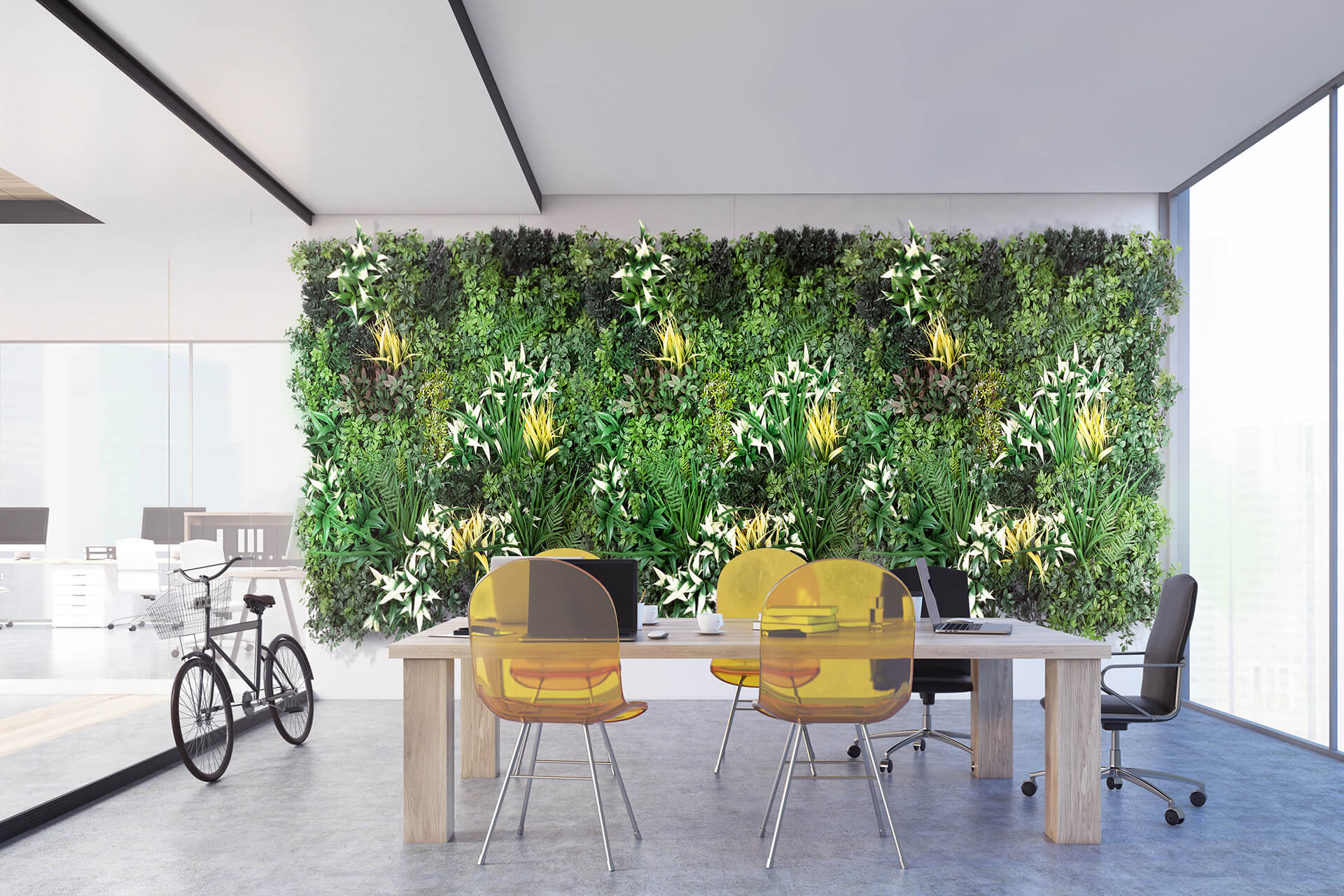 At Calico Greens, we make custom artificial plant walls that are low maintenance, look beautiful, and align with your design needs. Our modern products will create a fantastic first impression, and they are durable and easy to care for. To get started on owning an artificial green wall, give us a call today for a free quote.