When it comes to artificial grass walls being used for design purposes, only one's imagination is the limit. No matter where synthetic grass walls are installed, they can greatly enhance the look of any area. While many locations can seem tired or unremarkable in terms of appearance, whether they are a residential house or commercial building, a beautiful artificial turf wall can add a touch of vibrancy that is unforgettable. A large, green, eye-catching synthetic grass wall in a location such as a living room or hotel lobby can make people feel both closer to nature and more relaxed. And due to the synthetic planted walls being artificial, they never have to be watered, fertilized, treated with chemicals, and more. Essentially, a synthetic turf wall has all of the upsides of a regular vertical garden wall while having none of the downsides that goes along with something that can typically be so high maintenance, especially since synthetic planted walls require little to no maintenance.
Now, let's discuss some specific ways our artificial turf wall products can be used for design purposes.
Beautiful Artificial Wall Hedge Privacy Screen
An attractive artificial wall hedge privacy screen can be a great addition to any residential space. However, if you want extra privacy at home and want to add in a regular wall, the construction costs can be burdensome. Besides shelling out a chunk of cash for materials, a large amount of labor costs will be needed for the construction. With a beautiful artificial wall hedge privacy screen made by us at Calico Greens, not only can you save money on construction costs, but it is also more eco-friendly due to no construction materials being needed. And, rather than a regular wall, a majestic-looking green wall can add vibrancy and vigor to an area. So not only will you have extra privacy from a synthetic grass wall privacy screen, but you'll also have something lovely to look at that makes you feel closer to nature.
Artificial Grass Walls For Terraces
Whether a terrace is part of a restaurant, a hotel, an office building, or even a hospital, an artificial living wall can really liven up the environment. A synthetic planted wall that looks lush and green will help anyone on a terrace to further relax and appreciate the beauty in front of them. From visitors to customers to employees, anyone who goes to the terrace at your business will feel both calmer and closer to nature. And your business is certain to positively stand out in people's minds more so than usual, as seeing a hyper-realistic and beautiful synthetic garden wall isn't a common sight in many commercial places.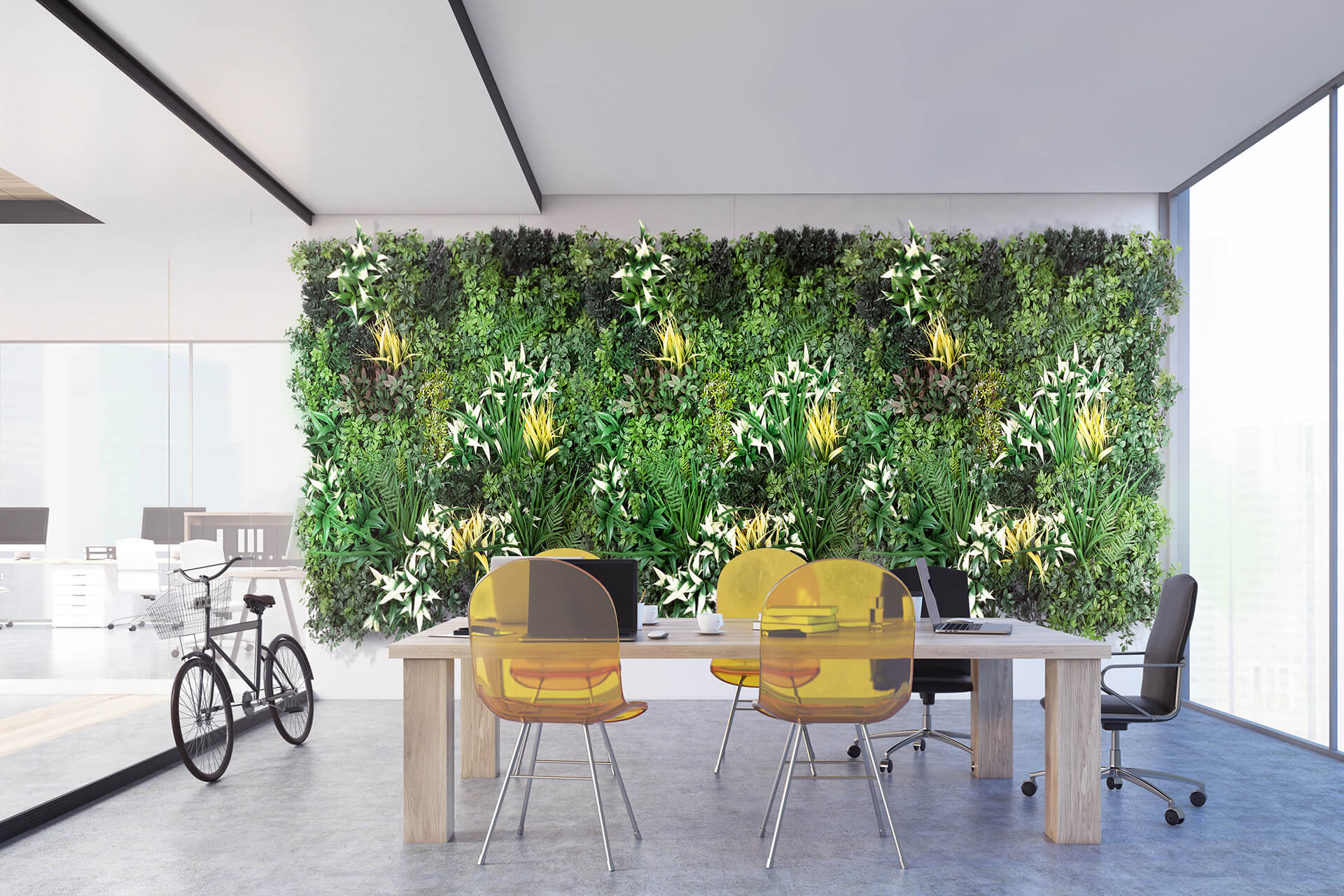 Artificial Green Walls As Accent Walls For Your House
Creating a feature wall can help enhance any room in your home when our artificial green walls are used. While many living rooms are dull, creating an accent wall in your home by adding a vibrant synthetic living wall can quickly make the area feel more upbeat, spirited, and closer to Mother Nature. 
Or add a synthetic vertical garden wall in your bedroom that will add a touch of zen to your room that can quickly make you feel less stressed, ready for a great night of relaxation and sleep. When it comes to bathrooms in a house, an artificial plant wall can indeed be a unique design feature that very few places have.
Artificial Turf Walls For Commercial Wedding Venues
A wedding venue is meant to be a place where wonderful memories are made between a bride and groom. A wedding venue should make a wedding both fun and unforgettable. Therefore, the look of a commercial wedding venue is incredibly important, as a couple will want the place their wedding is at to look as good as possible. And when it comes to designing a space to enhance its look, an artificial vertical garden wall can be a fantastic addition. A synthetic living plant wall can be created to look as fancy and decorative, and eye-catching as possible in order to make a wedding venue truly stand out. In addition, a synthetic planted wall serves as a wonderful backdrop to maximize the happy couple and guests' photo opportunities.
Synthetic Faux Planted Walls For Retail Store Decoration & Design
The appearance of a retail store plays a massive role in terms of customers deciding whether or not they want to enter a business in the first place. A plain, regular-looking store that doesn't stand out from the competition can be quickly looked over by potential customers, with them going to spend their money elsewhere. However, a decorative artificial garden wall that truly adds to the design of a store can be a highly noticeable feature that customers will appreciate. Not only can an artificial green wall help to bring customers inside your business, but it can also make their experience more enjoyable and have them more likely to return.
Contact Us For A Free Quote
Our hyper-realistic artificial green walls can be used for both home residences and commercial businesses. The walls are fantastic in terms of their look, but they also are great at maintaining their aesthetics due to them being built strong, fire-resistant, and resistant to color fading from UV rays. Once our walls are installed, they require virtually no upkeep from you. 
So if you want to add a beautiful artificial green wall to your home or business, contact us now at Calico Greens for a free quote.