Artificial Green Wall Options in San Jose, CA
Artificial green wall options from Calico Greens provide a beacon of innovation in the bustling heart of San Jose, CA, where urban life meets a desire for sustainable beauty. Homes, businesses, and other properties of all kinds share an opportunity to bring greenery indoors or enhance their outdoor aesthetics with our dependable and versatile synthetic living wall solutions. Our products offer spaces of all kinds in San Jose numerous benefits, which is why you should choose us at Calico Greens to help elevate your surroundings.
What Are Artificial Green Walls?
Artificial green walls, also known as artificial living walls or vertical gardens, are stunning panels made up of faux plants that mimic the appearance of varying types of traditional plants. Our various synthetic plant panels can be placed indoors or outdoors and are constructed using a variety of high-quality materials, including different kinds of artificial plants, foliage, and other vegetation, all of which are carefully designed to emulate the lushness and vibrancy of a conventional vertical garden.
Benefits of Artificial Green Walls
At Calico Greens, our stellar selection of fake plant wall products offers numerous benefits for indoor and outdoor spaces in San Jose, CA. Some of the many notable advantages include the following:
Dependable Beauty
One of the primary advantages of our artificial green walls is their unwavering beauty. Unlike traditional plants, which require constant care and may be subject to seasonal changes, our synthetic living walls maintain their lush appearance year-round. Whether it is the scorching heat of summer or the cold of winter, a green wall from us will remain an attractive focal point, enhancing the aesthetics of your space consistently.
Versatility for Indoor and Outdoor Spaces
Artificial plant walls from Calico Greens are incredibly versatile and can be suited to a wide range of settings. They are equally at home in living rooms, offices, restaurants, and outdoor patios, providing a touch of green elegance wherever they are placed. This adaptability allows you to create stunning environments that reflect your unique style and vision.
Low-Maintenance
Conventional gardens demand time-consuming upkeep, including watering, pruning, and pest control. In contrast, our artificial green walls require minimal maintenance. They are not susceptible to disease, pests, or the need for watering, which means you can enjoy their lush greenery without the hassle of constant care.
Durability
At Calico Greens, our synthetic green walls are built to last. They are crafted from premium materials designed to withstand the test of time, helping to ensure that your investment remains vibrant and appealing for years to come. With proper care, you can enjoy the beauty of your artificial living wall without worrying about fading or deterioration.
Fire-Rated
Safety is a paramount concern, and Calico Greens takes it seriously. Our artificial green walls are fire-rated, meeting stringent safety standards to help provide you with peace of mind. You can enjoy the aesthetic benefits of our faux green walls while knowing that they help prioritize your safety.
Why Choose Calico Greens for Fake Plant Wall Options in San Jose, CA?
Calico Greens brings a wealth of expertise to the field of artificial green walls. Our team of skilled designers combines creativity with technical knowledge to create stunning, lifelike greenery walls that help transform spaces in San Jose, California. We stay at the forefront of industry trends and innovations to help ensure you receive the best products available.
We also understand that every commercial and residential area is unique, and your synthetic green wall should reflect your vision. That is why, at Calico Greens, we offer a wide range of options, including plant selection and design aesthetics. Our team can work closely with you to find an artificial living wall that can complement your space.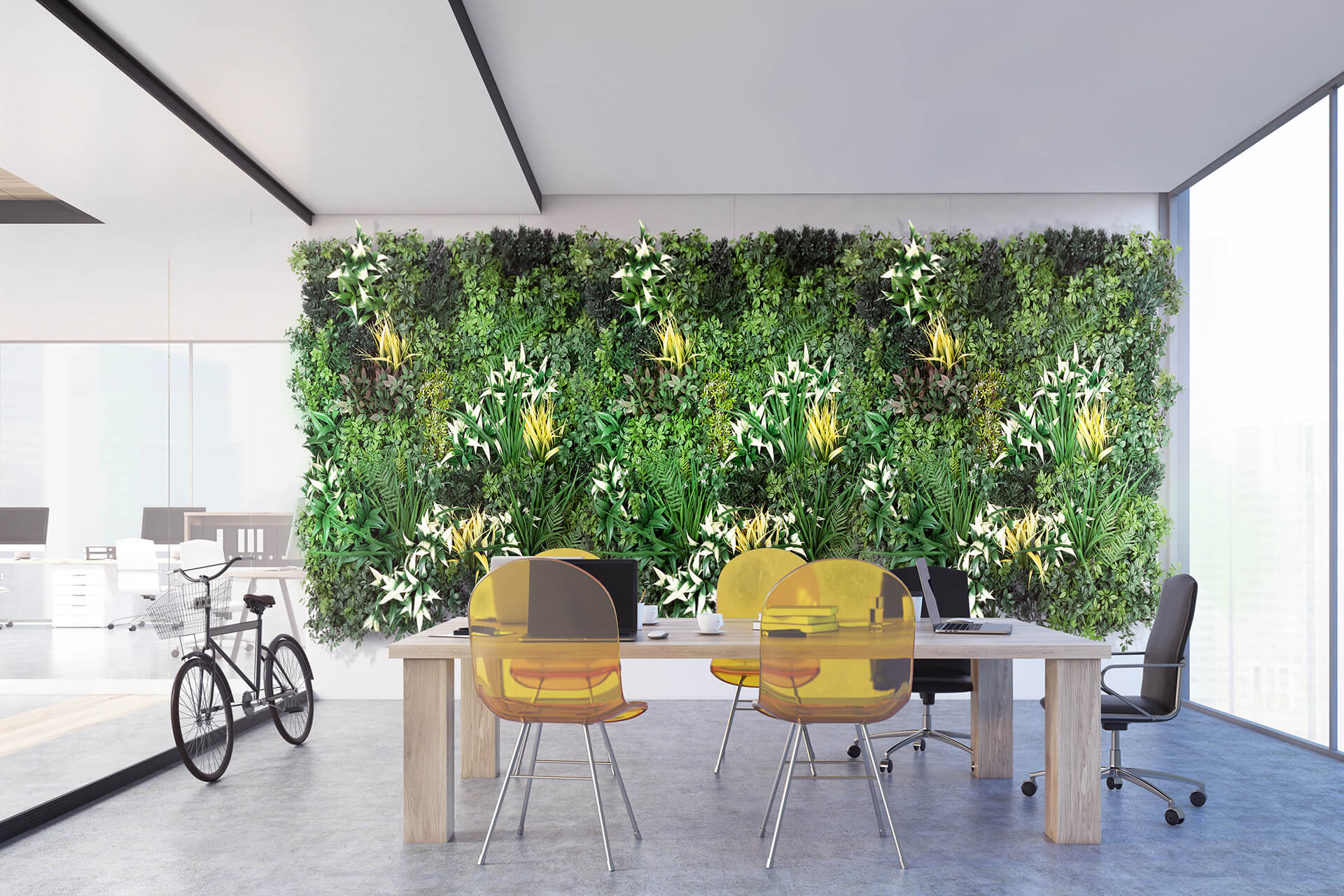 Various Other Commercial Application Ideas:
Gyms & Wellness Centers
Grand Entryways
Branding & Signage
Events and more
For More Information on Synthetic Living Walls, Contact Us!
At Calico Greens, our team offers a remarkable opportunity to transform your home, business, or any space into a lush oasis of greenery with our artificial green wall products in San Jose, California. The dependable beauty and versatility for indoor and outdoor spaces, low-maintenance nature, durability, and fire-rated safety help make us the premier choice in the area for artificial living walls.
Contact us today to learn more and get a quote for your space!