Artificial Green Walls in Los Angeles, CA
The iconic California city known for its entertainment and industry is sunny and scenic Los Angeles. Not only is Los Angeles the second largest city in America, but it is also one of the most desirable. At Calico Greens, we could not be more excited to have a presence here in LA. Los Angeles has a unique history and a richness of diversity that makes it stand out.
Whether you are an interior designer, a wedding planner or venue, an individual or a business, Calico Greens can bring an ethereal touch of nature into your space that will be transformational. We offer various artificial green walls with stunning foliage and ultra-realistic color and movement. Let us help you set the scene that will be the envy of everyone who lays eyes on it.
No matter the project, we have amazing options for you:
We know how important it is to have an ambiance that is refreshing and uplifting. At Calico Greens, we can offer you options for artificial plant walls that will bring the genuine feel of nature to you and your guests. Let us tell you a little more about what we can do for you.
Calico Greens
offers a wide selection of stunning artificial green walls for all of your needs in beautiful Los Angeles, California. We are the premier option for artificial plant wall décor, and it will be easy to see why. We have many high-end, customizable options that our well-established staff can assist you with. Our
products
are DIY, lightweight, simple to put up and take down, and require no maintenance.
You may be thinking, "That sounds lovely, but why not just have real plants?" Yes, natural plants are pleasing to the eye, but do you really want the hassle and mess that comes with owning a natural plant wall?
The benefits of having our foliage panels over natural plants include:
No Allergens
No Mess
No Bugs
No Watering
No Gardener
No Bruised Leaves
Our Lush Greens stay Fresh-Looking Everyday
Instead of spending your precious time maintaining and repurchasing real flowers and green plants for a natural plant wall, our customers save time and money by installing quality artificial plant walls.
Our Custom Artificial Plant Walls Are Built To Be Durable, UV Stable & Fire-Rated
We build all of our artificial wall panels with strict standards in mind. This means they are built to be durable and long-lasting. In other words, you won't have to worry about them quickly degrading in quality, becoming drab, and falling apart. Also, our green walls are also UV stable. In other words, they will retain their beauty and not have their color fade from constant sunlight exposure. Finally, our commercial green wall panels are fire-rated, which not only protects the needs of everyone in your building but also satisfies municipal building code requirements.
Gorgeous Foliage for Any Occasion
Bring the glorious feel of nature into your home, business, or event. At Calico Greens, we are not just offering fake plant walls; we are offering an experience. There is nothing quite like the soothing influence of nature on our minds and senses. Our artificial plant wall décor will elevate your space and help you transcend above the mundane.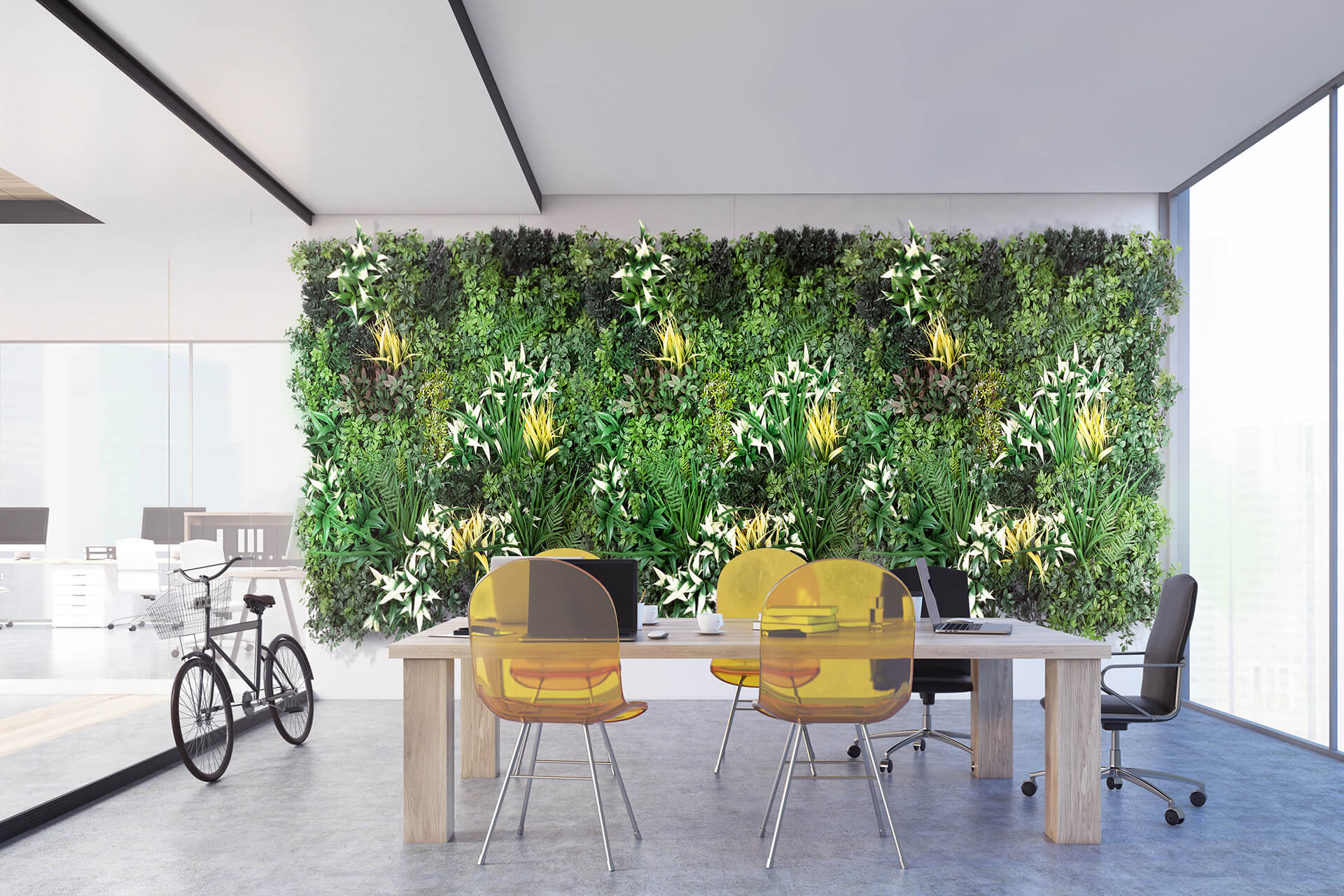 Our
products
are incredibly versatile, and they have both
residential
and
commercial
applications. Set your imagination free and do not limit your creativity. You can create a memorable backdrop for your space with our artificial plant walls. You can keep it clean and simple with a smaller accent or make an impact with an entire wall.
Not only is our product cost-effective, but it is also eco-conscious. At Calico Greens, we know how vital water conservation is in Los Angeles. So, let us help you create the space you desire without any need to waste water. With our synthetic green walls, you will feel accomplished bringing your plant wall dream to life without all the maintenance, headaches, and watering that natural plants require.
Let's take a look at a few of our classic options:
Hampton — Green Boxwood shrubs bring year-round color to any room with these decorative artificial wall plant panels.
Burgundy — Delicate highlights of purple, white, and red create a lifelike, natural appearance, adding dimension and beauty to any space.
Tuscany — A beautiful way to introduce greenery into any space, blending a diverse array of bulbs, shrubs, climbers and class to your home or business.
Various Other Commercial Application Ideas:
Spa & Wellness Centers
Grand Entryways
Branding & Signage
Events and more
Contact us for a FREE Consultation Today
Calico Greens
is a leading supplier of synthetic plant walls for a variety of residential and commercial purposes in Los Angeles. Our team is confident that we can provide you with the highest quality planted walls for your home, business, or event.
Contact us
today for a free consultation for your own living wall!