Artificial Green Walls in Jacksonville, FL
At Calico Greens, our artificial green walls offer indoor and outdoor spaces in Jacksonville, FL, realistic beauty without needing an abundance of maintenance. Our stunning synthetic plant wall panels provide a refreshing touch of greenery, allowing residents and entrepreneurs alike to experience the soothing benefits of plants without compromising on space or maintenance. As a result, our artificial living walls are quickly becoming a popular investment for Jacksonville homes, businesses, and more. Discover the details below:
Exploring Artificial Green Walls From Calico Greens
Artificial green walls, also known as vertical gardens or living walls, are innovative forms of indoor or outdoor decor that mimic the appearance of traditional vegetation but without the need for soil, sunlight, or ongoing maintenance. Our synthetic green walls consist of carefully crafted artificial plants that are meticulously arranged to create a lush and vibrant display of greenery. At Calico Greens, we are a pioneer in this field and have perfected the art of crafting hyper-realistic fake plants that closely resemble their traditional counterparts, providing a stunning visual appeal.
Benefits of Our Incredible Artificial Green Walls
The allure of artificial green walls from Calico Greens is not limited to their aesthetic charm – they offer a plethora of benefits that make them an appealing choice for both homes and businesses, including the following:
Low Maintenance
Unlike traditional living walls, our artificial living walls require minimal upkeep. Say goodbye to watering, trimming, and worrying about sunlight exposure – our synthetic plant wall panels retain their lush appearance effortlessly.
Year-Round Beauty
Jacksonville's warm climate provides an ideal setting for artificial green walls to thrive. Regardless of the season, our faux plants remain vibrant and inviting, ensuring a year-round touch of greenery.
Customization
Calico Greens offers a diverse range of synthetic plant options, allowing homeowners and businesses to tailor our green walls to their preferences. From lush tropical foliage to elegant flowering plants, the possibilities for design are virtually endless.
Space Optimization
Synthetic living walls are a brilliant solution for spaces where other forms of decor might not be feasible. They take up minimal space while delivering a maximal impact on aesthetics.
Perfect for Indoors and Outdoors
One of the most remarkable features of artificial green walls from Calico Greens is their versatility. Our synthetic plant walls are equally well-suited for indoor and outdoor spaces in Jacksonville, Florida. This is because they do not require sunlight to thrive, but they are also resistant to fading from sunlight. As such, they can be added to interior or exterior areas.
Residential Retreats with Artificial Green Walls
Imagine stepping into your Jacksonville home and being greeted by a lush, verdant wall that instantly calms your senses. Residential applications of artificial green walls are as diverse as the city of Jacksonville itself:
Living Room Elegance: A carefully placed green wall in a living room can add a touch of elegance and vitality to your space, creating an inviting atmosphere for both residents and guests.
Bedroom Bliss: Transform your bedroom into a soothing sanctuary by incorporating an artificial living wall. The aesthetic can help promote relaxation and better sleep.
Kitchen Greenery: Even the kitchen can benefit from a splash of green. A synthetic green wall filled with artificial plants looks appealing and makes the space feel fresher.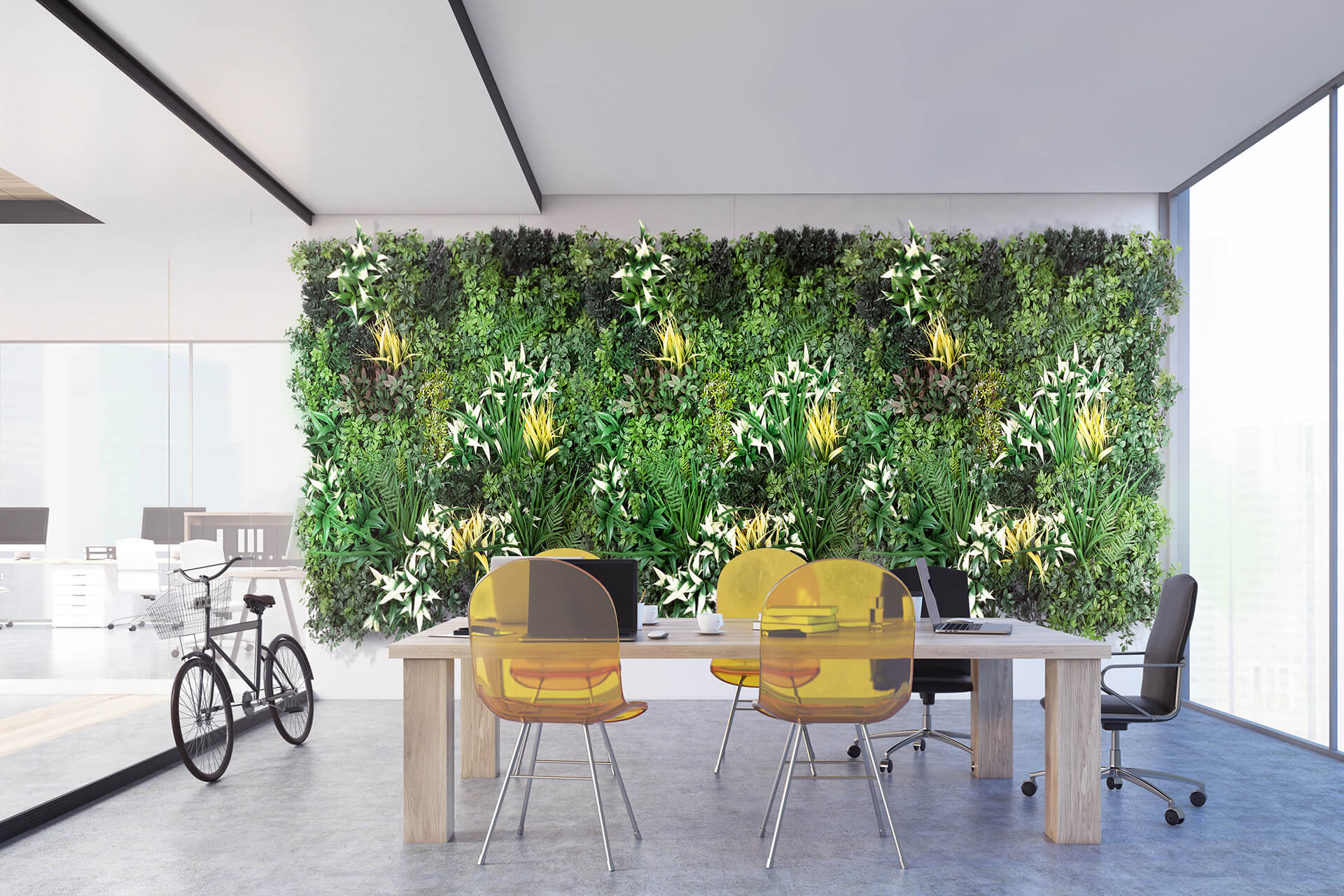 Businesses Blossoming with Green Walls
Businesses of all types in Jacksonville, FL, are embracing the potential of commercial artificial green walls to enhance their spaces and create memorable environments for clients, customers, and employees. Details include:
Retail Retreats: Retailers utilize our fake plant walls in Jacksonville, FL, to craft immersive shopping experiences that not only help beautify spaces but also help keep customers engaged and relaxed.

Office Oasis: Artificial green walls in office settings contribute to a more pleasant work environment. They can even enhance employee well-being, productivity, and creativity.

Restaurant Ambiance: Jacksonville's vibrant food scene is being complemented by the addition of artificial living walls in restaurants. Our faux plant walls help elevate the dining experience, making patrons feel as if they are dining in a lush garden.
Various Other Commercial Application Ideas:
Gyms & Wellness Centers
Grand Entryways
Branding & Signage
Events and more
Learn More About Artificial Green Walls in Jacksonville, FL Today!
At Calico Greens, our artificial green walls are bridging the gap between urban living and the serenity of greenery in Jacksonville, Florida, homes and businesses. Whether you are seeking to revamp your residential space or create an inviting atmosphere for customers at your commercial business, our synthetic living walls provide a captivating solution that brings greenery to your spaces. Contact us today for more information!