Seattle, WA Artificial Green Walls
At Calico Greens, we supply gorgeous artificial green walls to homes, businesses, and other properties in Seattle, WA. Our multiple synthetic plant wall products can help bring greenery and extra beauty to areas both indoors and outdoors. As such, this makes our artificial living walls an ideal choice for decor for homes, offices, restaurants, parks, wedding venues, and so many other spaces in Seattle, Washington and its surrounding communities.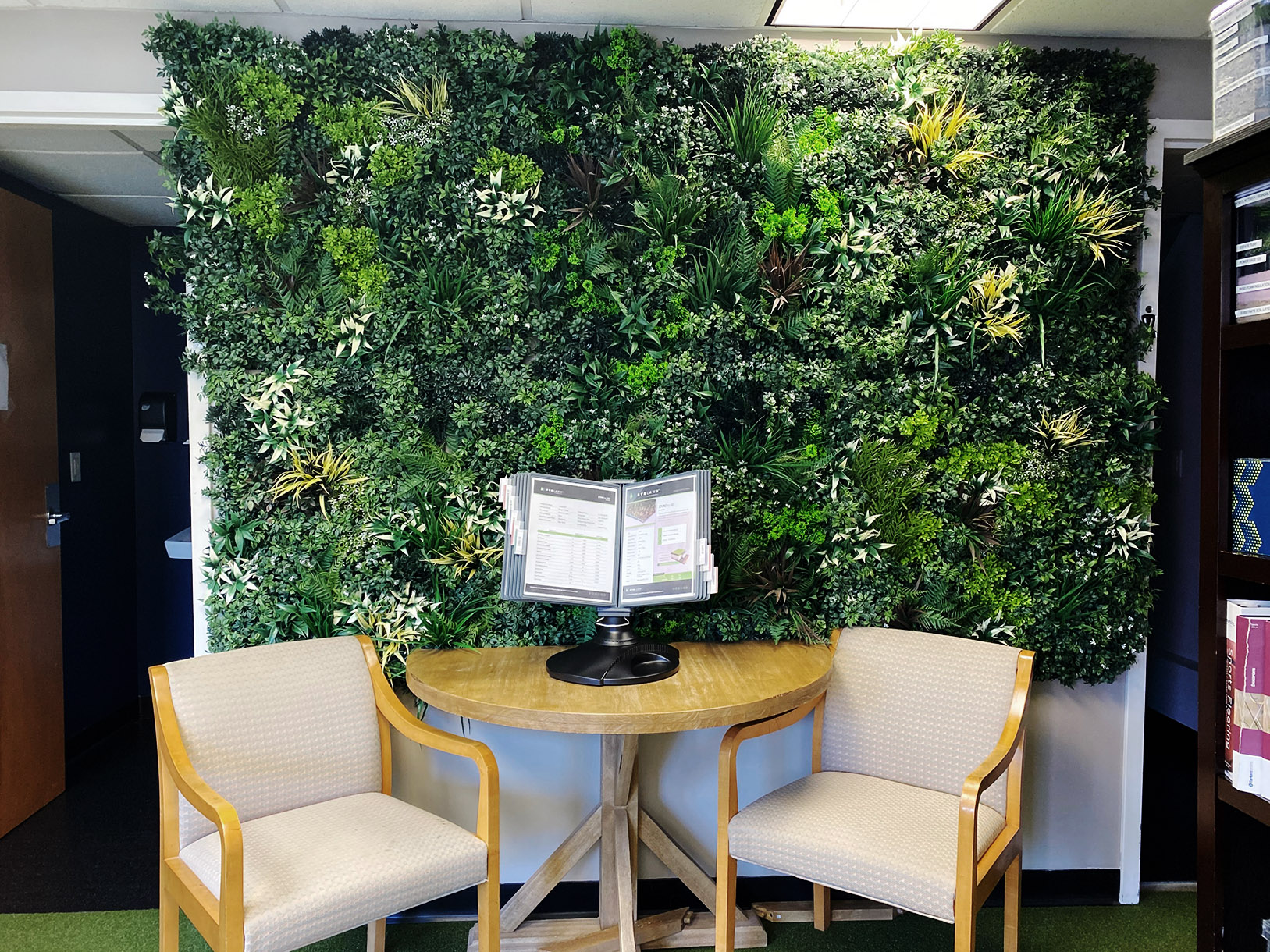 What is an Artificial Plant Wall?
Artificial planted walls – also known as artificial green walls or artificial living walls – are connectable and easy-to-install wall panels that feature an abundance of synthetic plant life. They can be equipped to existing walls and structures in both interior and exterior areas. In doing so, they add beauty and greenery to a space that requires little maintenance and lasts for years, making them a consistently attractive addition to your residential, commercial, or municipal spaces.
Applications for Our Artificial Plant Wall Decor
At Calico Greens, our synthetic green walls can serve as gorgeous decor for a variety of spaces and applications. Some of the most common applications our team have observed in Seattle, WA include:
Backyard decor
Office accent walls
Grand entryways
Restaurant decor
Privacy panels in commercial spaces
Decor for indoor & outdoor wedding venues
Shopping center decor
Accent walls and decor for resorts & hotels
Rooftops, decks, & patios
Spa & wellness center decor
Benefits of Artificial Living Walls From Calico Greens
At Calico Greens, our faux plant wall panels provide areas and their owners with several considerable benefits. Most notably, these benefits include:
Little Maintenance 
Typically, conventional green walls will require costly and time-consuming maintenance. The plants must be watered and replaced when necessary. These activities can spill soil and water on walls and floors, requiring clean-up. They might also attract insects, which often need to be removed, especially in indoor settings. Ultimately, this means that traditional plant walls can be a headache for home and business owners. 
Fortunately, Unlike conventional plant walls, our synthetic living walls require little to no maintenance. They never need to be watered, and since they are artificial, they do not need to be replaced on a regular basis. Plus, with our synthetic green walls, there is no dirt, and insects are typically unattracted to them. So by owning our artificial plant walls in Seattle, WA, you can own beautiful, low-maintenance decor!
Consistent Beauty & Greenery
Artificial green walls from us at Calico Greens are specially designed and produced. In doing so, they provide a hyper-realistic appearance, replicating the design, colors, and textures of multiple plants. This allows our synthetic planted wall panels to bring undeniable, awe-striking beauty into your spaces. Best of all, because our plants are artificial, they never wilt, wither, or die off. As a result, they provide your home, business, or other type of space with consistent gorgeousness and greenery for years – even in colder weather!
UV Protected & Fire Rated 
Artificial green walls from us at Calico Greens are also imbued with special protective measures to help ensure their beauty and safety. First, our synthetic living walls are UV protected. In doing so, they resist fading from sunlight, even when placed outdoors. This keeps them looking their best for years. Second, our fake plant walls are fire-rated. This helps ensure that they will not easily be set ablaze or help spread fire, making them a safer choice for residential or commercial property decor.
Various Other Commercial Application Ideas:
Gyms & Wellness Centers
Grand Entryways
Branding & Signage
Events and more
Learn More About Artificial Green Walls Today!
Artificial green walls from Calico Greens provide various spaces and properties in Seattle, WA with beautiful greenery. Contact us today to learn more about our stellar synthetic plant wall panels and receive a quote!