Artificial green walls are a fantastic time-saver for the savvy DIYer. While creating your own unique faux living wall can be rewarding, it can also be costly and incredibly time-consuming. Calico Greens artificial green walls are customizable, realistic, and a great DIY project for those wanting a lively space without the hassle of creating the wall.
Choosing to make an artificial living wall from scratch is a daunting project. First, you have to gather the money for materials, then do the shopping to pick out a load of greenery. Then, you need to set aside an entire afternoon, or more, to make the wall from start to finish. Even the most experienced DIYers don't always have the time for this type of monumental project. Imagine having to place every single leaf, stem, and flower individually.
Calico Greens takes the difficult part out of installing an artificial green wall using innovative DIY techniques. Save your time and potential frustration by purchasing one of our unique foliage patterns for a quick DIY installation. Not having to shop for supplies alone will save you a massive amount of time.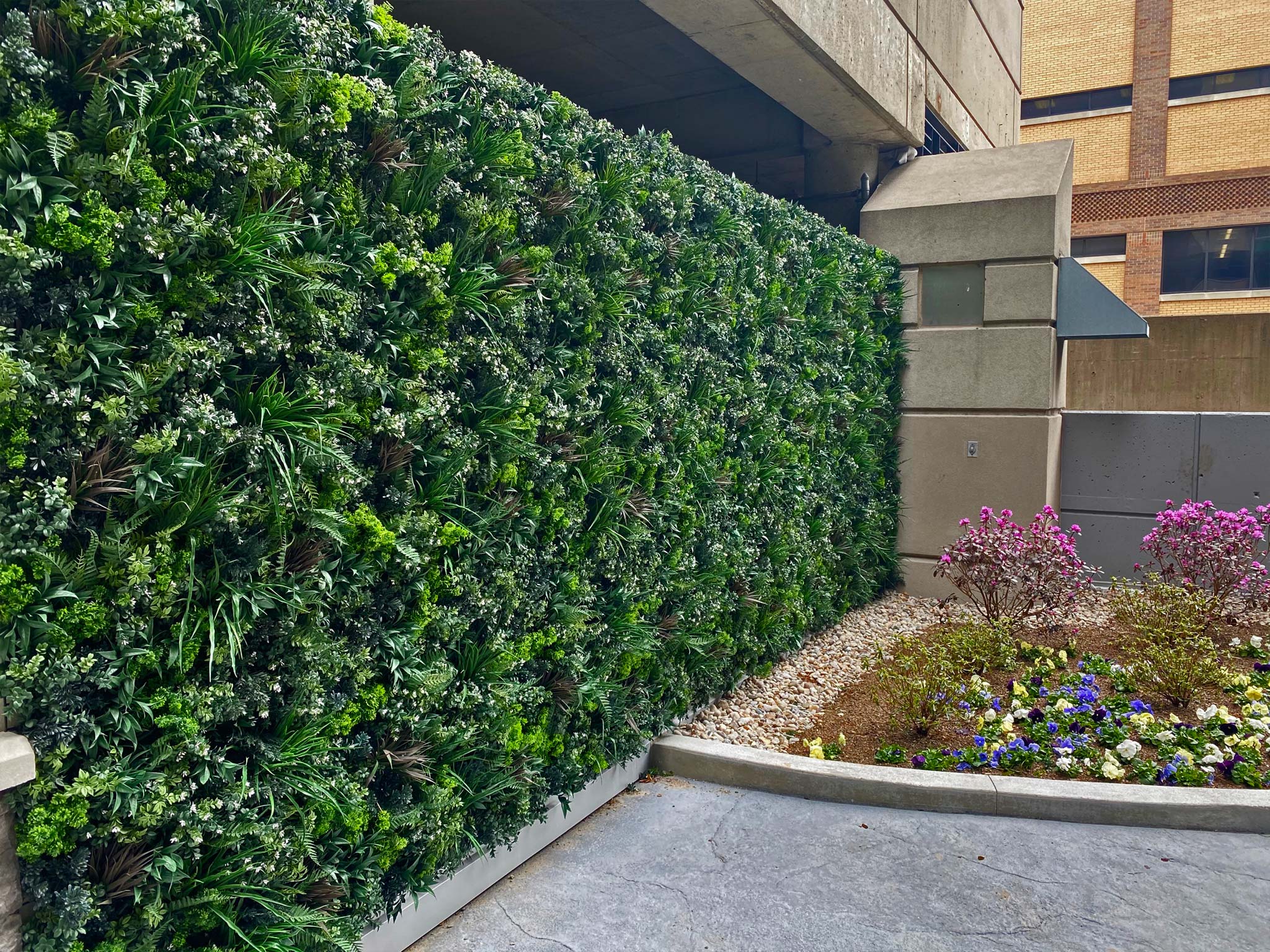 Features of Our Artificial Green Walls
Several factors set Calico Greens faux living walls apart from the rest. We offer quality products that are easy to install and leave a lasting impression. Below are a few remarkable features of our DIY artificial green walls.
UV-stable
Faux plants that you find at craft stores aren't typically high quality nor are they made to be UV-resistant. So even if you decide you want to take on the challenge of making your own foliage wall, be careful that it doesn't get direct sun exposure. In addition, pigments in many fake plants will fade quickly.
Calico Greens artificial walls won't fade in the sun, even if they are outdoors. Constant sun? Not an issue. Our faux living decor is made to stand up against powerful sun and variable environments.
Ideal for Indoor or Outdoor Use
Unlike natural living walls, artificial plant walls don't need to be monitored or regularly watered. Their lack of need for sunlight and water makes our walls outstanding for indoor or outdoor use. There is no need to worry about dirt or water leaking onto your guests or customers. Instead, clients, friends, or family can enjoy the lovely artistic look of an artificial plant arrangement. 
The same features make our walls perfect for outdoor conditions. Additionally, you don't need to worry about hiring additional workers to maintain a living wall. If you run a business that wants to take advantage of our dynamic greens for venues, restaurants, or entertainment spaces, install your artificial living wall and get your guests feeling closer to nature.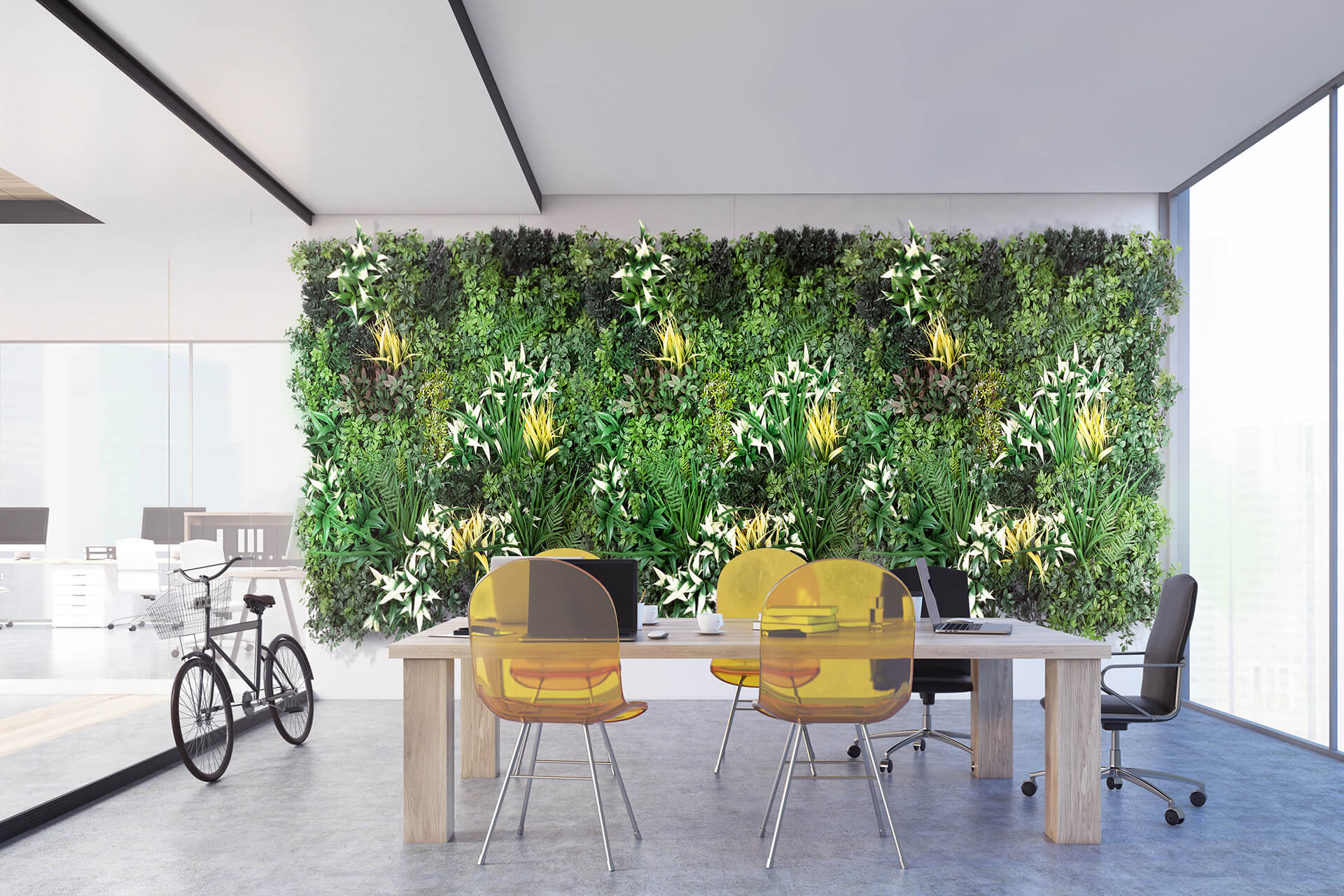 Help With Energy Efficiency
Believe it or not, our green garden walls have been known to improve energy efficiency by providing a wind and temperature barrier for both indoor and outdoor uses. Placing an artificial living wall in your home can assist with insulation, decreasing energy cost and consumption. They also provide a barrier of warmth for outdoor guests if you have a patio or common space where guests like to gather.
Low Maintenance
No soil. No water. No trimming. These are just some of the low-maintenance qualities of Calico Greens DIY artificial green wall installation. While a traditional wall attracts bugs and pests, our synthetic walls allow you to avoid that. Unsightly dead brown spots will also become a thing of the past since artificial living walls never die or require watering.
Where You Can Install a DIY Artificial Green Wall
Our DIY artificial living walls can be installed indoors or outdoors and serve various commercial and residential purposes. Remember that since our walls are resistant to UV discoloration, it doesn't matter if they get direct sunlight.
Spaces that would benefit from the beauty of an artificial green wall include:
Inside your home: bathrooms, living rooms, and hallways
Outdoors on a deck, patio, or terrace
Small businesses and retail stores
Wellness facilities like spas and fitness centers
Ultimately, a DIY artificial green wall install will go smoothest with the help of Calico Greens living wall solutions. Save yourself time, money, and energy while reaping the benefits of UV resistance, portability, and an ultra-realistic look.
Get a Free Consultation
DIY artificial green wall installation is straightforward with walls from Calico Greens. The versatility and adaptability of our product are unmatched, and our experts are ready to help you with a free quote. Please reach out to us today for a consultation.