If you delight in the whimsical atmosphere that plants bring into your space but don't want the hassle that often comes with owning live plants, explore the wonderful artificial living walls from
Calico Greens
. Our luxurious synthetic plant foliage panels are always perfectly manicured and are incredibly low maintenance. With them, you can say goodbye to wilting flowers and browning leaves and instead say hello to magnificent shrubs, colorful bulbs, and gentle ferns. Our
artificial living walls
are ultra-realistic and will bring an ethereal sense of peace and relaxation into your midst without the responsibilities of constant upkeep. 
At Calico Greens, we have thoughtfully crafted a stunning line of artificial living wall panels that can be combined into nearly any size space and can also be mixed and matched to your liking. The only difficult part of this process is making your selections from the variety of beautiful synthetic plant panels available to you. From then on, you can put away the gardening tools and simply enjoy the presence of low-maintenance foliage.
Here is our current line of hyper-realistic artificial plant panels:
Hampton – Elegant green boxwood shrubs
Burgundy A – Delicate, life-like mix of rich green & pops of color
Burgundy B – Luxurious aesthetics with purple & white accents
Tuscany A – Classic array of bulbs, shrubs, & climbers
Tuscany B – Cosmopolitan arrangement with light & dark green shadings
Tuscany C – Rich dimensions of color with graceful white & subtle reds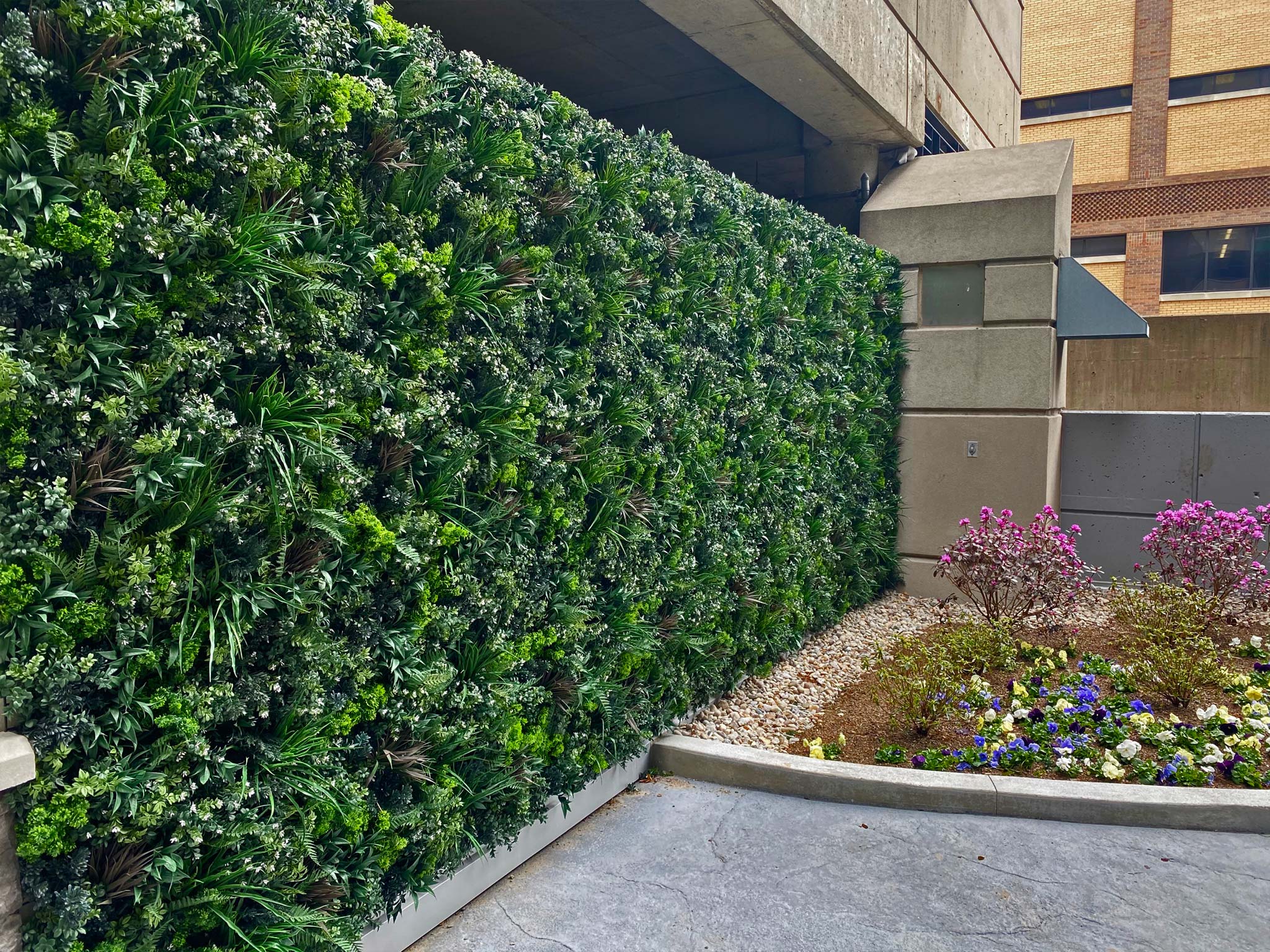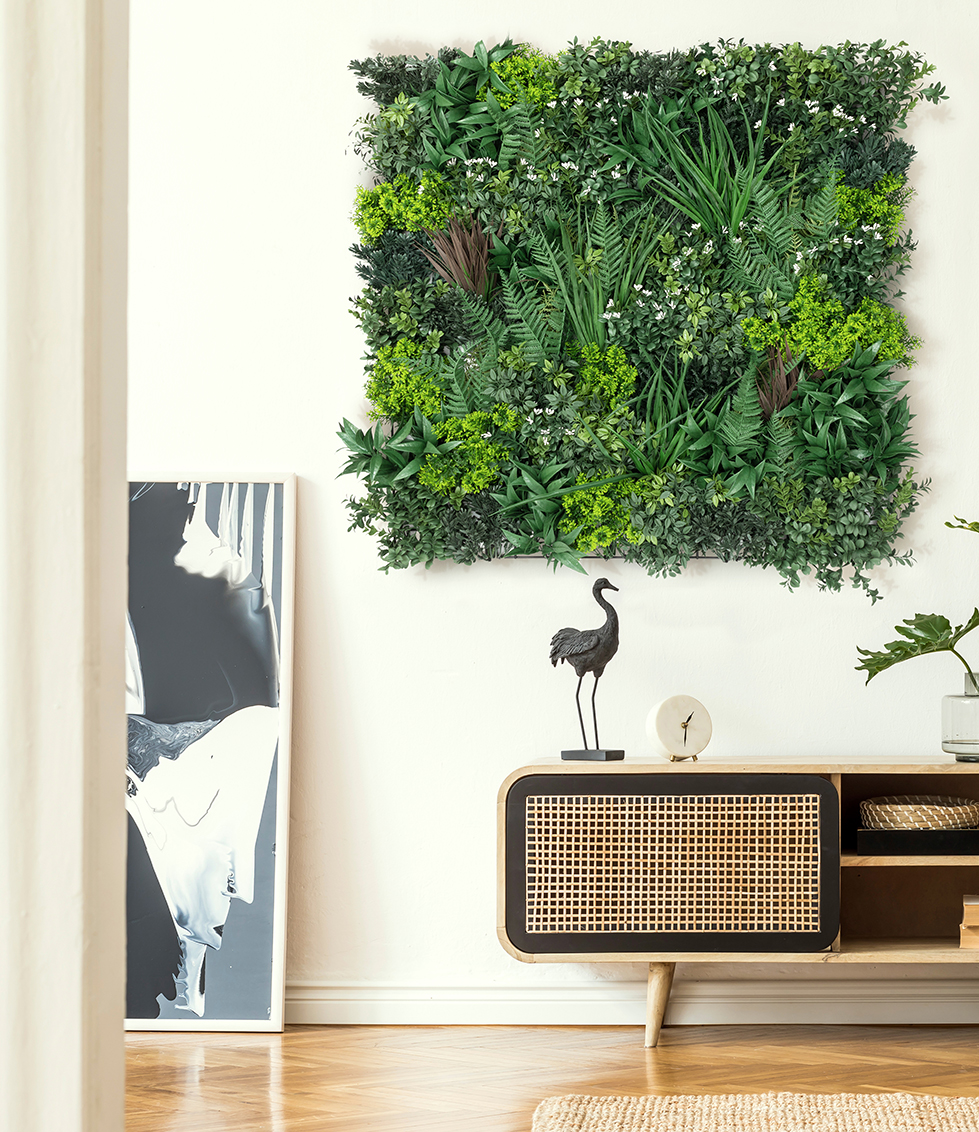 When you choose artificial living wall panels from Calico Greens, you gain the ability to elevate spaces that could otherwise be a challenge. Our synthetic plant wall panels can decorate indoor and outdoor spaces, and they can be moved and reused again in your residential or commercial spaces. So think outside the box and get creative with our artificial foliage panels in exciting new ways!
Why Calico Greens
Calico Greens is an industry leader with innovative ideas. We want to help bring the essence of nature into any space without the cost, time, and energy that organic plant walls require. To do so, we developed our line of artificial living walls. You can virtually have it all with our artificial living walls. They are produced in the United States and are made to last with their synthetic nature and specialized UV protection to help avoid fading.
Simplicity was a feature that was important to us as a company, so our synthetic plant panels are quick and easy to install and rearrange. Our versatile artificial living wall panels are also safer to own and manufactured to ISO 9001 standards. This is primarily because we have designed all of our panels to be durable and highly fire-rated.
Transformational Benefits
Revolutionize your home or business now by ordering one or more panels of our artificial living walls. They are cost-effective compared to live living walls and will help add a relaxing atmosphere that is priceless. In addition, our lush synthetic greens will stay fresh-looking every day. With Calico Greens, you will be ushered into a new era of décor that is wondrous and earth-friendly.
Benefits of our artificial living walls include:
No allergens
No need for pesticides
No watering
No messy dirt or soil
No need for a gardener
No bruised leaves
No dead plants
Less likely to attract insects
Easy to clean
Contact Us to Learn More
Artificial living walls from Calico Greens can be an ideal, transformative addition to indoor and outdoor areas on residential or commercial properties in the United States. Our high-quality synthetic plant panels offer numerous advantages over live living walls. Our artificial foliage panels provide consistent, year-round beauty without all of the hassles and responsibilities living plants require to look their best. Plus, our artificial living walls can be easily installed, moved around, and provide safety benefits, such as their fire resistance.
Contact us today to learn more about our artificial living walls or get a quote!